Wow, I'm totally stoked!  John and I have been putting the goal setting and financial analysis techniques we've learned with our consultant, Paul  Landes, to work on developing our carpet cleaning marketing plan.  (My man Big Bad Billy Yeadon and Chuck Violand will love this!)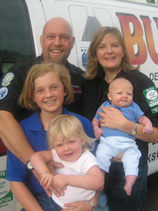 John and I have now determined what promotional marketing methods we are going to continue, initiate and give up.  We could only determine this through careful tracking over the past couple of years to determine our ROI.  The numbers don't lie so it wasn't an emotional or "out of our comfort zone" decision.
I've learned that sometimes cleaning entrepreneurs feel loyal to a method that may not be working and can't give it up even though it doesn't make sense to keep doing it.  With this new approach, we've learned that when you see the hard numbers it makes it a simpler (even though still difficult) business decision.
For example, even though we have a 10 year relationship with our advertiser and are friendly with her, it just isn't right for us to keep pumping money in to a money losing  mass mailer anymore.  With my new "non-emotional" attitude it was easier to explain to her why we just could not continue with her advertising medium that we now KNEW was consistently cutting in to our profits.  It helped me not let her emotionally sway us because of our relationship or offer us a special deal so we keep doing business with her.
It was simple.  I just said, "The numbers tell us this is no longer effective marketing method for us.  No matter how good of a deal you give us, we would still be throwing our money away."  So even though my advertising salesperson had become a good friend she couldn't argue with this reasoning and it helped take the negative emotions out of our parting ways. Whew!
John and I then sat down and figured out our marketing budget.   Kudos to Chuck Violand here!  We just applied what we learned from Chuck in SFS to keep our percentages for advertising in line with his budget recommendations.
Our final step was determining the time-line for implementation of our marketing plan.  The methods we chose for our carpet cleaning business will be on-going (thank you cards), as needed (client gifts/referral rewards), quarterly (newsletters) or have specific completion dates (press release or speaking engagements).
That's about all I can muster up for now.  I'll be sure to send more dispatches including the results of our marketing changes soon.
Meg