An abiding principle of the Strategies for Success seminar is to make everything in your company "easier to do it right than do it wrong".  Even in the little things (that in reality aren't so "little"!) such as measuring carpet cleaning chemicals …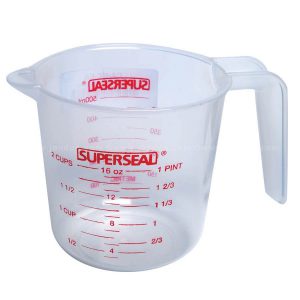 Reduce the temptation for your technicians (and you) to "glug" chemicals by always having a measuring cup easily available. Attach a measuring cup to the front of your truck mount or any chemical mixing area with a retractable cable for a "key bank." (These are the little spring wound spools that clip on your belt and attach to a key ring.) Now your measuring cup will never get lost because it is "tied" to your van yet will still be easily accessible.
Put one of these "chained measuring cups" near every location where you mix chemicals. It will pay for itself very quickly with less carpet cleaning chemicals cost and greater efficiency!
Wow, ya gotta love quickTIPS like this one.  Simple, cheap and very, very effective. Don't forget that this tip ties in perfectly with our current push to get our SFS site members to super-charge their profits by selling more Scotchgard.  With this "chained measuring system" your Scotchgard proportions will always be dead-on and so will your profits!  OR here is a bonus quickTIP …
Don't forget that the Scotchgard factory container fits perfectly into your Powerforce in-line sprayer and you can dial the correct 1 to 4 proportion automatically.  Spraying the Scotchgard protector right out of the factory container with automatic metering means it will be even easier to "do it right than to do it wrong"! (Not to mention instant credibility with the home owner.)
Steve
P.S.  Of course, part of super-charging your Scotchgard profits is to "buy low" and "sell high". We have you covered on both counts! (Including a great special price on Scotchgard!)  All you gotta do is click on the links …