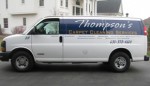 Here is just one example of how Strategies for Success and the Making the Cheerleader philosophy have transformed our business:
Two years ago we did a job for a customer in Naperville, Illinois. We landed the job because of our quick response to their request. We showed up on time for the pre-inspection, educated him on our cleaning process and provided him a fair price. He accepted our written quote and we did the work along with following the Value Added Service system we learned in SFS.
When we were done we showed our client the results. The comment we received was, "Looks awesome!" The customer was excited with the results and we knew we had just added another customer to our "book" of business. We left the home hoping this customer would be a "CHEERLEADER."
Guess what!  Last year we received FIFTEEN NEW referrals from JUST this one customer. That's right FIFTEEN NEW CUSTOMERS and we have returned again to this same customer for his yearly cleaning. "Making the CHEERLEADER" really works. It has helped grow our small, family owned business and will continue to do so.
You really have to take what you have learned during SFS and implement Value Added Service into your business.  (And do so with a positive attitude!) In short, the Strategies for Success program is PRICELESS.
Patrick @ Thompson's Carpet Cleaning Services, Inc.