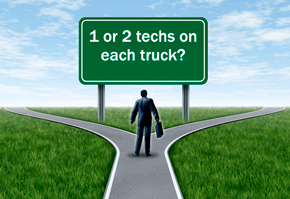 Hi Steve,
My partner and I have a question.  We're just starting out and trying to decide on our staffing.  When you ran your business did you send your employees on the truck solo or in a 2 person crew?  If 2 people on a truck, was it always that way or just depending on the schedule and size of the job?  Thanks for any help you can give us and we are thinking about attending Strategies for Success some day!
Starting Out in Tampa
Thanks for writing in, Starting. You are smart to be "starting with the end in mind" as in thinking about your business model/logistics. This is not to say you will not have to make the inevitable mid-course corrections in your business. You will. But it is good to be thinking about what you (and your partner) want. NOTE:  Speaking of "beginning with the end in mind" it is essential that you and your partner have a signed, legal "buy-sell" agreement before you start your company.  Or even better you really should analyze if you would be better off as a "lone wolf"! Most partnerships eventually crash and burn!  Sorry to rain on your parade!
But I digress!  So- one or two people on a crew?  Simple- it all depends!  For example, we would typically do a "mix-or-match".  At the time I sold my company we usually ran three trucks full time with one more as a backup.  (Four total vans.)  So we usually would schedule two two-person crews per day and one single person truck. The tech working alone would run small rental clean-ups and spotting and "Stay Beautiful" open area six-month cleanings. It is tough to have definite rules but this arrangement seemed to strike a good balance.
I will say if the drive-time doesn't kill you, two techs on a truck have many advantages in A) avoiding employee burn-out, B) more time to sell-up and C) better production. Plus a big bonus is a better perception of security for the (usually female) customer by not being alone with a solo stranger in her home.
Steve Toburen
PS: We almost always ran two people on commercial work. Between the intense physical work, the lonely and late night hours and some very real security issues I strongly recommend two techs on commercial jobs.  (Even with two people don't forget to have a completed Job Profile for every single regular contract account you have.  After all, who knows when both of your techs might go AWOL at the same time!)
PPS: If you are a new business and want to "do it right" from the git-go, you (and your partner if you are sure you decide to continue together) should come to SFS BEFORE starting your business. For example, Jon Fields attended Strategies for Success before he ever even touched a scrub wand. Did it help? Let's let Jon tell his own story.