Question: Do you have a check list that my techs can follow at the end of the day?
Steve's solution: Yes we do! But trust me, your techs still aren't going to do this stuff! Instead, let me suggest…
Hi Steve,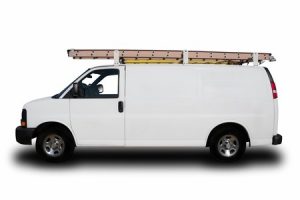 Thanks to attending SFS (and implementing Value Added Service) my business has exploded!  But now I'm hitting the wall with keeping our vans repaired and stocked.  My techs are exhausted when they come in and just want to go home.  So they restock their service vehicle with the main stuff like the emulsifier (sometimes!) and then sneak away!
Meanwhile, ongoing mechanical problems and the little stuff like clean entrance mats and our FREE Spotter for Life bottles aren't getting replaced.  Do you have a checklist that we can give to the technicians to clean and then restock their vans with the right equipment, chemicals, etc?
All Worn Out in Portland
Dear Worn Out,
First, congratulations on your growth.  It makes your SFS team "proud as punch" to be a big part of your success.  But as you are learning, growth (and especially rapid growth) brings other issues- such as staying on top of truck maintenance and restocking.
When I was an owner-operator my truck was METICULOUS! After all, it was MINE!  And my future (and my family's financial welfare) depended on it functioning well.  But then I hired employees and I learned that even the best employee- DIDN'T REALLY CARE!  Employees tend to have short horizons.  In fact, if you do find a worker that takes the long view they will ether become your manager OR your competition!
RESOURCE: Despite my negative comments above on employees there are great people out there! You'll get 100's of new hiring ideas and systems in our 3-hour, online SFS: Hiring the Very Best! LIVE seminar. To learn more and/or easily register online click HERE.
So the short answer is I do have a simple Daily Maintenance Checklist.  However, it will need to be customized to your operation simply because each company is so very different. Here's some items to include in a checklist:
Cleaning of van and equipment:
Wash van (special attention to wheels, tires and ledge in front of truck mount.)
Clean interior, throw away trash and especially clean front dash.  Wash windshield inside and out.
Dump waste tank and clean filters.
Add disinfectant/deodorizer to waste tank.
Clean "Clear View" filter.
Clean rotary extraction cleaning head (special attention to underneath cleaning of head). Also hook up to truck mount and turn on to check no tips are clogged.
Clean and polish scrub wand.  Hook up and check spray pattern of tip.
Check vac and solution hoses and clean if necessary.
Wipe down truck mount and vacuum tank. (Special attention to instrument panel and other "customer visible" areas.)
Wipe down pressure sprayers.
Clean out spotting kit.
Restock Service Vehicle of all chemicals and supplies:
Refill all chemicals.  (Check amount in inventory.  Need to re-order?)
Check and refill spotter kit.
Restock "block bin" and furniture tab holder.
Restock entrance "walk off" mats (Large bath mats) and Free Lifetime spotter bottles. (Minimum of 10 each on each van.)
Truck and equipment maintenance:
Check all fluids in van.  (Oil, water, battery, windshield fluid, air in tires.)
Check truck mount fluid levels. (Oil, pump oil, etc.)
Lubricate blower.
Check all belt tensions.
Lubricate rotary extraction tool.
Oil pressure pump sprayers w/ super lube.
So work these points into a restock service vehicle checklist that your employees mark off and then turn in at the end of the day. Adding structure and  "Employee Accountability" to your company is always a good thing.
HOWEVER, Worn Out, here's the problem with ANY checklist.  Very quickly your tired and demotivated techs will just zoom through things, check everything off "click-click-click" on the checklist and they are out of there.  I fought this too.  Then I got smart in my five truck mount company.  (One van was a backup.)
The best idea I ever had on techs restocking trucks was … GIVE UP! Say what?? That's right- I recognized I was fighting a losing battle. Once again, your techs are tired and want a cold beer when they come in – the very last thing they want to do is go through a boring check list! Who can blame them!
So we had our techs pull any broken or damaged equipment off the truck and turn in their Production Day Sheet with the repairs needed written down (along with their checks for the day attached) and they were OFF the clock!  It was Miller Time!
Meanwhile, I hired a reliable high school kid to be my 'Maintenance Tech'. He would come in around 7 PM or so to do general cleaning, restocking and repairs.  I paid him better than he could get at McDonald's to go through every van, restock them and clean them up perfect. (He also learned to do minor mechanical repairs such as rebuild cleaning wand valves and work on sprayers, etc.)  The kid loved the work (instead of my techs resenting it) and did a much better job.
Even better, the high school kid was working for a 1/3 of what I was paying my techs. With all the cleaning work we did, my employees were invariably pushed into overtime so in effect they would restock our service vehicles at time and a half!
Seriously, Worn Out, think on this idea and let me know what you decide.
Steve Toburen
PS  Some of our graduates of SFS Training with larger companies use a separate full time "re-stocker" in their cleaning company and it works perfectly for them! The techs feel like NASCAR drivers because they get in their vans and go to work. When they are done they step out and go home!