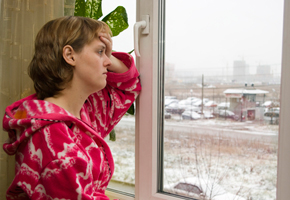 After a delayed start many cleaners and restorers are facing the "emotional issues" of winter. Say what?
Remember that residential carpet cleaning is primarily an "emotionally driven" event. Think about how often you hear:  "I just couldn't stand my carpets any more!" or "My home was so filthy!" or "Help!  My mother-in-law is coming!" (You don't get much more emotional than that!)
But when rainy/snowy/generally nasty weather arrives the residential cleaning cancellations start rolling in. Why? Because your customers don't FEEL (Remember, "emotions"?) like cleaning when it is "yucky outside"! Fight back against "winter holes" in your scheduling book with this over-the-phone "preemptive strike":
"By the way, Mrs. Jones, don't worry if it is snowing next Thursday. We bring our own door mats, our own shoe covers and we'll use a special insulated door stop to keep the cold and snow out of your home. Heck, we even bring our own snow shovels so you just might get your walk shoveled free of charge!"
You'll be amazed how many "weather cancellations" you'll avoid by explaining ahead of time how you deal with rain/snow/mud!
Restoration HINT: With restoration you won't have winter cancellations. After all, the Insureds want to get back in their home! So focus on the logistics of cold/nasty weather. Think comfort, think safety for your workers. Get the building's heating system running ASAP. (You'll need it anyway for efficient drying.) Keep access to the site safe with regular plowing and shoveling. And don't forget little Moments of Truth for the Insured such as placing door mats for their already ravaged home!
Commercial HINT:  Business clients are all about "appearance management". So increase your winter cleaning frequency near entry areas. (Extraction cleaning may be needed to remove mud, sand and rock salt.)
NOTE:  One big no-no on regular commercial carpet cleaning accounts? Resist calling your client to cancel because of bad weather. Very likely your customer will reply, "You know, the floors look OK and business has been slow. Let's just skip it this time." UH-OH! Now you've opened "Pandora's Box" by letting your client cancel!
Finally, just hang in there- Spring is coming!
Steve Toburen
Every week we share a timely, practical tip like the above. So if you're not already signed up for these FREE weekly QuickTIPS, do so now.
Also new this week: