For years we carpet cleaners have been trying to figure out how to get jobs from Facebook. Get ready because the code has finally been cracked. With the new targeted advertising options Facebook offers it is now easy to get phone calls and jobs directly from Facebook's Page-Post Ads. For example…
In the past two weeks I was able to book over one-thousand dollars worth of business from 3 different ads and my total cost was less than $60! Let me explain step-by-step how you can do the same:
1. You need to have a Facebook Business Page (aka Fan Page) already set up. If you need help with this just go to YouTube and search: "How to setup Facebook Business Page" or follow the principles in this article.
2. To start the ad switch to your personal newsfeed and click the "Create an Ad" link in the top right corner.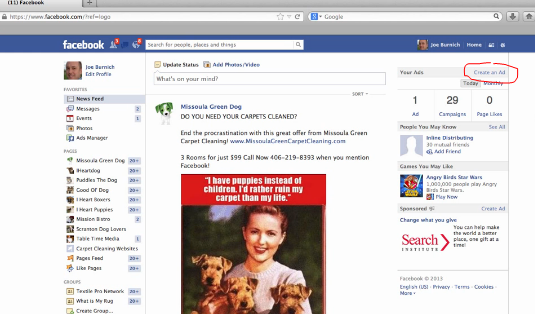 3. It will then ask you to select a page. (You will probably just have one option so just select the page and move on.)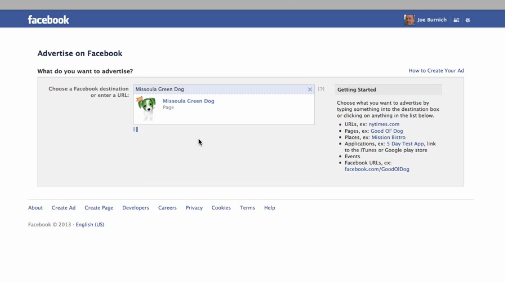 4. In the center of the screen you will see an option for "Promote Page Posts". You want to make sure this is selected.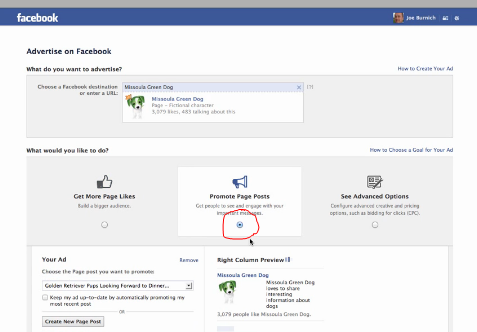 5. Now you can create a New Page Post or select from the dropdown list a post you have already created on your page. This should be a dramatic/funny picture and text. Pictures get seven times more interaction than text alone so this is very important. We will get into the details in just a moment.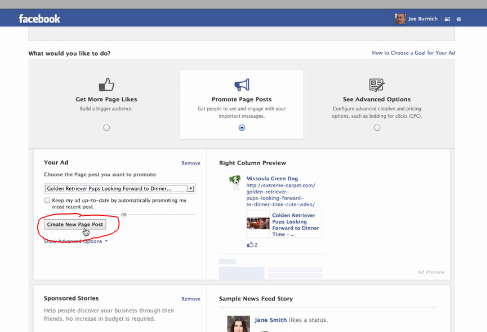 6. Make sure you click the link "Remove" next to "Sponsored Stories".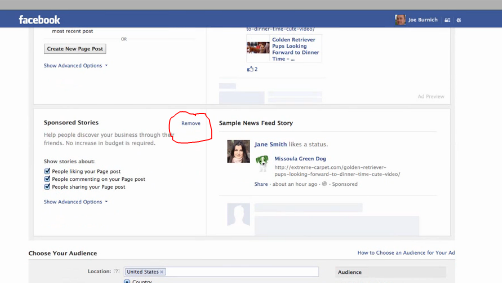 7. Now comes the exciting part. Facebook lets you target who sees the ad by city, age, sex and interests! For example you could specify: Women between the ages of 25 and 45 with kids and pets located within a 10-mile radius of Springfield, Missouri! (Now THAT is some "serious targeting"!) Have fun with this and think about the possibilities when creating a new ad.
Editorial NOTE: Big Billy Yeadon has been preaching "targeted marketing" for years. What Joe is suggesting with his Facebook strategy just lets you target more effectively and faster while saving lots of money!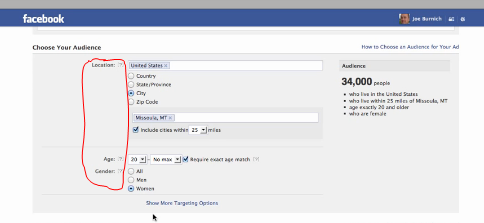 8. Next select your campaign budget of say… $5 per day. Five bucks per day is a good amount to start with. You can then bump it up later if you find an ad that really takes off.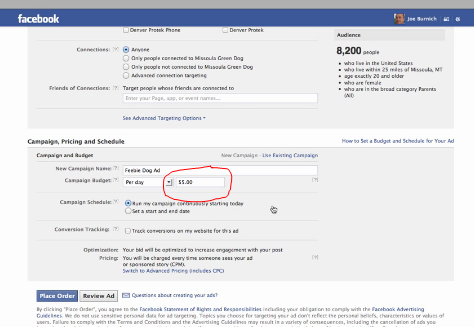 9. Finally click the "Place Order" button. These ads are reviewed by humans and can take 24 to 48 hours to approve. Facebook will shoot you an email when the ad goes live or if it was rejected.
OK, you now know how to create an ad. But let's take a look at what will really make your phone ring! Above all else make sure your picture is funny, cute or interesting. That means NO MORE BORING PHOTOS of carpet cleaners or living rooms. The whole point of the picture is to hook their attention. If you make it "FUN" then your readers won't mind the advertisement.
Above the picture is where you want to give your pitch. This is where you include your call-to-action, phone number, special offer and link to your website. This combination of picture and text is what I call the Hook-Pitch method and it works like a charm! If you would like to watch a video with screenshots and sample ads check out: http://carpetcleaningwebsites.net/facebook-advertising-the-code-has-been-cracked/
If you follow these guidelines and test, test, test what works in your area your phone will ring! Expect more changes from Facebook in the near future and we'll try to keep you up to date.  This is just the beginning so learn the basics now and stay on top of this exiting new advertising opportunity with Facebook.
And please report back here on your results with Facebook or any other online marketing strategy. As Steve Toburen always says, "We're all in this together!"
Joe
Joe Burnich operates a carpet cleaning marketing and web design business. Experience with his own carpet cleaning business makes him uniquely qualified as he incorporates the "practice what you preach" philosophy to help fellow carpet cleaners succeed as he has. Contact Burnich at (406) 214-6504.