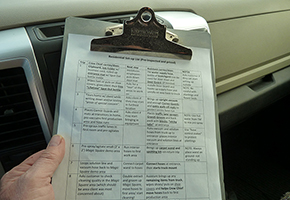 I've been on an "efficiency kick" lately. (Sioux says, "Oh yeah, not around the house you haven't been!")  For example, last week we looked at "sticking" tools and like equipment together. (Yep, even with Velcro!)
Increased business efficiency (IBE) pays off in so many ways. Getting more done in less time means increased profits. Then when you finally muster up the courage to raise your prices? WOW!
So WHY do you inevitably struggle with IBE? People! All of us (not just your employees) are imperfect FLAKES! We're tired, disorganized and forgetful! Yet every wasted minute costs YOU money!
So help your employees (and you too!) achieve IBE with step-by-step lists. Let's focus on that word "step" as in "fewer steps back and forth" when setting up on the job.
Develop a routine "Set-up Sheet" with what items should be taken in to the job on each "trip" from the van.
Residential: The "600# gorilla" in client's homes? "Too much" efficiency! (As in running around and/or ignoring your client!) Working "too fast" will make your customer think you are "rushing through my home".
So I developed a balanced, written schedule that let my techs be up and running in just seven trips to the van (Usually less than 10 minutes!) while still delivering Value Added Service! Download my Residential Set-up Sheet HERE.
NOTE: Check out in this Residential Set-up Sheet how we still did our "apologizing for our noise" Five-Around while also achieving IBE! (Remember- If your carpet wand isn't moving you aren't making money!)
Commercial: Now you (usually) can ignore all that "silly" Value Added Service and GET EFFICIENT! Therefore my famous "3 Minute Rule" for my commercial crews! (Depending on the security issues/ hose runs/ public access I wanted our carpet wand moving in 3 MINUTES or less after pulling up to the account!) Download my Commercial Set-up Sheet HERE and find out how we did it!
Restoration: Talk about traumatized, conflicted people! Insureds desperately need to see "a sense of urgency" on your part. (After all, THEY WANT THEIR LIFE BACK!) BUT Insureds also need an "attitude of care and concern" from all your employees!
My Water Damage Set-up Sheet is in "Peer Review" right now. ("Peer Review"? HUH? Our industry has changed so much I want some of my "down in the trenches" readers to check my restoration procedures!) But don't fret! You'll be able to download your Water Damage Set-up Sheet in next week's QuickTIP.
Look over these Set-up Sheets and tell me how to improve them! After all, "We're all in this together"!
Steve