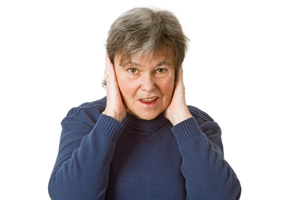 Putting a door hanger on the houses on either side of your job and the three homes across the street still works.  But let's see if we can get more mileage out of this venerable "five around" concept…
1.  Make sure your photo ID badge is visible, ring the neighbor's doorbell and step back three feet. When they open the door, look them in the eye, smile, clearly introduce yourself and say…
2. "We are cleaning Mrs. Jones carpets across the street. (gesture at the home and your truck) I want to apologize for our machine's noise." (The home owner probably hasn't even heard it.)  Now hand them a bottle of Spot-Out and say…
3.  "To make it up to you please accept this free bottle of Spot-Out carpet spotter that gives you free spotter for life.  Any time you need more Spot-Out just call our number on the label and we'll replace it free of charge. Plus here is my business card good for $20.00 off on your next cleaning. Just give it to our technician and they'll deduct $20.00 off your bill…" (Pause here and you will be amazed how many people ask you to look at their carpets "while you are here"!)
4.  If the home owner doesn't invite you in just thank them for their patience and tell them to have a good day. (If you are asked to inspect the carpets be sure to put on a set of shoe covers.)
NOTE #1: If you are running two people on a crew these four steps can be done while the carpets are being cleaned so this SUPER effective marketing doesn't cost you anything except for the very inexpensive Spot Out!
NOTE #2: To "motivate" our techs they got $10.00 CASH every time one of their business cards was used by a new customer. (We pre-screened the neighbors ahead of time and didn't visit existing clients.)
This "apologizing for our noise" technique works on so many levels:
a) You now have a "hook" (an excuse) to knock on the neighbor's door and…
b) you are making a positive impression on your prospect plus…
c) you are gifting them something of high and lasting value that…
d) has your contact information on it and will "stick around" for a long time.  (And all for a little over a "buck a bottle"!)
In fact, many of our SFS members have converted this Five Around into a "block around" and are knocking on every door within earshot of their truck mount!  They tell me almost invariably they get at least one job immediately plus are sowing the seeds for many more in the future.  (Home owners love the FREE Lifetime Spotter concept!)
Steve
NOTE:  Please don't forget those dangerous "ruptured-over-the-winter" hose faucets lurking out there.
Every week we share a timely, practical tip like the above. So if you're not already signed up for these FREE weekly QuickTIPS, do so now.
Also new this week: