I hope counting down our "TOP TEN Ways to Make More Money (MMM) from Each Job" list has helped you sell more.  But now my #2 MMM TIP is to …
Sell less! (Instead, focus on your most profitable add-on sales.)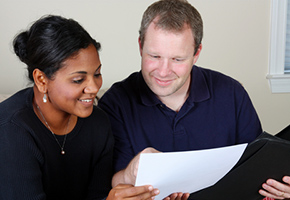 That's right- SELL LESS!  You can easily overwhelm the home owner with too many choices. For example, I used to sell entrance mats/ groomers/ deodorizer/ carpet spotter/ vacuums (and vacuum bags!) and Scotchgard/ extra rooms/ upholstery and drapery cleaning and even electrostatic furnace filters!  But then I discovered this "Yankee Peddler" approach is counter-productive:
1) It turns off the home owner- Your customer has probably been burned before by the typical bait-and-switch carpet cleaner.  So even if you absolutely stick to your agreed upon price if you are pushing one up-sell option after another the home owner can feel pressured.
2) A high "spoilage factor"- Riding around in a hot and bumpy van all day means your different "display items" get shabby real fast.  (We threw out a lot of damaged up-sell stuff.)
3) It is tough on your employees- Most techs aren't comfortable "selling" anyway.  Plus offering all these options takes time.  With such a bewildering menu of options most techs will just "opt out" and offer nothing!  So I picked my battles …
I analyzed where our company made the most PROFIT.  (And what add-on services/products were best for the home owner.)  I came up with three "add-ons" we gently offered at every job:
A) Additional services–  We gave a 20% discount on extra carpet/furniture/tile and grout cleaning/garage floor renovation, etc. that we did while there on the job.  You are already there- saving the travel time and gas easily justifies a generous discount.
B) "Reapplication" of ScotchGard carpet protection-  Probably the single most profitable (and fastest to perform) add-on service out there.  (Sell more protector with this free Special Report.)
C) The "Stay Beautiful" Program- Once they understood the concept my customers loved this "pre-paid maintenance service contract".  Even better, my accountant LOVED the regular cash flow the automatic monthly payments brought in!
So what "up-sell stuff" have you dumped?  And which ones do you (and your clients) love?  Tell us in the comments below.
Steve Toburen
PS: The one thing I NEVER "sold" was my "FREE Lifetime Spotter".  Instead, on every pre-inspection (whether I got the job or not!) I would hand the customer a bottle of Spot-Out (with my logo and contact info printed on it) and say:  "This is a gift for you- a free lifetime supply of carpet spotter." So please don't "sell" spotter- give it away!
Every week we share a timely, practical tip like the above. So if you're not already signed up for these FREE weekly QuickTIPS, do so now.
Also new this week: