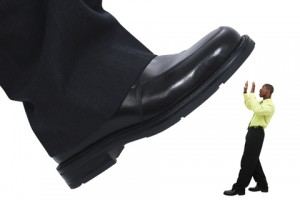 Dear Steve,
A major franchise player has just opened up in my city and they are saturating the TV and newspaper with slick ads. Even my best customers are mentioning that they have seen the ads. What should I look out for? What's the best way to handle them? I'm freaking out here.  HELP!
Intimidated in Nevada
Dear Intimidated,
The first thing I want you to do is take a deep breath and hold it. Keep holding it until you are dizzy and then blow it out and take another one. See? You are still breathing! This new competition hasn't changed that and likely not much else.
Now the positive side of these big "franchise marketing blitzes" is they will spend big money building awareness of the need for carpet cleaning that in turn will rebound to your benefit … IF you're running a tight ship. (After all, you said your customers were "mentioning" the new advertising- not jumping ship because of it!)
What is a tight ship? Consistently making Cheerleaders on virtually every job, adding more and more value in every interaction with your client so that you stand out far above the rest of the pack. Easy? No, especially if you are afflicted with the typical, down-at-the-mouth, sad sack technician so common out there. And yes, when you attend SFS we will give you over 1,000 pages of Business Infrastructure, much of it focused on your technicians.
Positively,
Steve
P.S. Once again, you must focus on making YOUR Cheerleaders. So why not take this "invasion" as a call to arms to take steps that should have been done years ago? Complacency is a dangerous drug. I'd say, "Thank you, Mr. Franchise!"