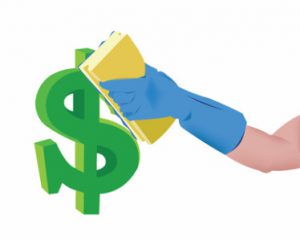 Your biggest marketing challenge? A nervous, skeptical and/or scared first-time prospect can't see, touch, taste or 'try on' your service before purchasing it! (Plus many potential clients have probably been burned before by your less-than-ethical competitors!)
Even worse, your prospective customers don't know WHO they can trust in their home or business! (Click HERE to see why this "Trust Factor" is so important!)
So HOW can these poor, 'bewildered sheep' get to know (and trust) your company (and you) BEFORE they make a decision on who to call?  Let them know your sparkling personality face-to-face! But HOW, Steve?
Imagine easily (and inexpensively) getting one-on-one with with a constant parade of new potential customers over one or two days! YES, this miracle can happen when you…
Promote your company in Spring Home Shows!
BUT WAIT! For you to 'clean up' big time from these prospects streaming by your show booth you MUST 'do it right'! For example, you must reach out and book 100's of leads during (or immediately after) the show!
RESOURCE: That's why you need our 3 hour, online SFS: Winning over your caller! LIVE seminar. Click HERE for 100's of 'Lead Conversion' ideas and systems to easily book prospects who use text, email, Facebook, website chat or even… the phone! HERE are our upcoming class dates…
If on the other hand you 'do it wrong' (like the typical sullen-carpet-cleaner-sitting-in-his-booth-ignoring-prospects-while-texting-on-his-phone!) then fuggedaboudit! Your Home Show will be an exhausting waste of time and money! Remember that with any Home Show you must overcome challenges. For example…
Home Show attendees quickly A) become overwhelmed and B) are 'gun shy' of pushy sales people. Plus remember that C) not every person walking by your booth is a good prospect for your services. So therefore:
1. Reach out to attendees- Don't wait for people to timidly enter your booth or area. (Most won't on their own.) Instead, discreetly "work the aisle" by slowing down attendees out in front with a 'hook'. (Our 'hook' was a coupon printed on check stock with "Good for $20.00 on goods and services" printed on it.  To add authenticity our 'aisle employees' would initial this 'check' in front of the attendee.)
NOTE: We tracked coupon response and 3 months later the employee with the most returned coupons won $100.00 cash!
2. Have a free home cleaning contest- Once they are 'stopped' (if they appear to be a good prospect) hand the attendee their contest entry on a small clipboard to fill out. Include a box to check for a free carpet cleaning "pre-inspection". Then follow up within two days after the show.
3. Add good lighting- Nothing looks worse than a dingy, gloomy Home Show booth!
4. Introduce ACTION- We advertised that Home Show attendees could bring in their (simple) area rugs to be cleaned for free! Then in our outside display area teams of our crisply uniformed employees with two truck mounts would clean over 600 rugs in two days… with 1,000's of our prospective customers watching the 'transformation'! BINGO!
NOTE: Stuck inside? Hook up a small portable extractor and invite passing kids to dump ketchup, coke and orange juice on sofa cushions- then clean 'em up. "Don't try this at home, kids!" Or demo basic carpet spotting techniques- then gift everyone in your audience a Spot Out bottle that has your contact info printed on it! (They're less than two bucks each ready to go!)
5. Ban chairs from your booth- I'm serious! I wanted my employees up and greeting people! (Remember 'ACTION'!) We worked 2 hour shifts and then my people got a 30 minute paid break. Bring in some friends to help!
6. 'High grade' your attendees- Not every show attendee was a good prospect for my company. So our aisle employees would chat with (and subtly interview) folks about their cleaning or restoration needs. Then we'd sort them as in…
Just a tire kicker? Give the attendee a brochure and wish them a good day. A better prospect? Then our rep would give them a small clipboard with a contest coupon to fill out. (See #2 above.) And if the attendee was a 'heavy hitter' ready to buy? My employees would bring them back to me (or another manager) at the back of our booth for a serious 'getting to know each other' chat.
Our annual Spring Home Show was an expensive (and exhausting) two day event. HOWEVER, we would typically book over 200 residential jobs worth over $70,000.00 directly from our Home Show efforts! (And we'd normally get 20 or 30 commercial leads too.) Even better, we'd get 'residual calls' years later! (I didn't put an expiration date on our $20.00 off coupons and they were sometimes redeemed 10 years later!)
Want a more in-depth analysis of 'Home Show success'? Then CLICK HERE for my free Special Report: The Big Money in Home and Trade Shows! Or if you want the latest and greatest ideas…
Join our Strategies for Success: Growing Your Business Facebook Group! You don't have to be a SFS Training graduate to get advice from our 1,000's of cleaning and restoration contractors so join us today!
MORE HELP? You'll learn so much in our different online SFS: LIVE seminars! Plus you'll implement our concepts easily with our turnkey SFS: 'Business Infrastructure'! Click HERE to see upcoming classes…
Now don't you have some local Home or Trade Shows to get signed up for?
Steve