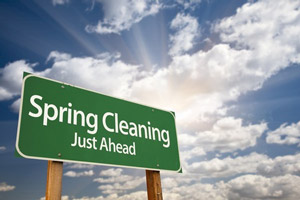 So are you all primed for a busy "spring cleaning" season? Absolutely! But will you avoid the spring cleaning dangers for a cleaning or restoration contractor?
Let's review some spring time preparations to take BEFORE your phone starts ringing off the hook. For example, I always remind you folks to…
Beware of the dreaded broken "freeze-proof faucet"!
Remember that a freeze-proof faucet shuts off the water INSIDE the house. So the copper tube to the hose bib may have frozen and split during the winter. (Especially if a hose was left hooked up to it!) BUT this previously broken pipe won't be noticed until AFTER you hook up your TM, are merrily cleaning away and your client screams, "You have flooded my basement!" (Don't even ask me how I learned this one!)
NOTE: HERE is how to check for a broken faucet BEFORE you flood a client's home. (You can thank me later!)
Spring is also a great time to get your equipment, truck(s) and/or you and your employees in order too! For example…
1. Change out your lead solution hose. The last thing you need is 220 degree water gushing into your client's home from a broken hose! So every spring buy a new length of solution hose and retire your previous interior hose to exterior, "long run" status.
2. Repair, clean and wax your truck(s). Winter is tough on vehicles. So do a thorough cleaning (get rid of that road salt!) and don't forget those tires. (And clean off those dashboards!)
3. Clean, re-organize and label your truck's interior. Put your most common tools/chemicals in the most accessible locations.  (While you are at it label the tops of the bottles in your spotting kit too.)
4. Replace the belts on your truck mount. (Keep the used belts as spares on the truck.) And tighten all plumbing and electrical connections on your machines. NOTE: Loose electrical connections caused 90% of my TM problems.
5. Are you going to need more employees? NOW is the time to be 'recruiting' the Very Best People for your team. (Actually you should ALWAYS be recruiting but better late than never!) CLICK HERE to read my '8 ways to compete for the Very Best People' checklist!
6. NOW is the time to prune the dead wood in your company. Right now, while you still have time to train new workers is when you should get rid of marginal employees. CLICK HERE to review my free Fast Track Training concepts. And CLICK HERE to check out my digital 'Winning on the Home Front' Technician Training course.
7. 'Jump Start' your spring cleaning by reaching out with an excuse to call previous clients.  After all, the more customers you can jog a bit to clean BEFORE  your spring rush the better!
Commercial HINT: Remember that selling commercial accounts should be a "process", not an "event". So just because you get busy with spring time residential don't let up on your weekly Dedicated Sales Morning.
Restoration HINT: Clean and repair your W/D equipment after a long winter. Even better, why not blow out, clean and  disinfect your air movers, dehumidifiers and HEPA air filters immediately upon arrival back to your plant. Then shrink wrap your emergency mitigation equipment to protect it from dust and dirt. Now imagine the Positive MOT's you'll create when your pre-sanitized equipment is unwrapped in front of your Insured!
Your diligence in avoiding the above spring cleaning dangers will be greatly rewarded.
Steve