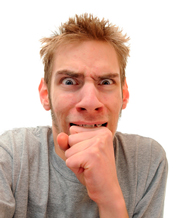 You've invested an enormous amount of time, energy and money in your marketing efforts. The phone rings- you book the job.  Life is good!  So now the furniture has been moved, your vacuum and solution hoses have been laid out and the pre-spray sits glistening on the carpet.  Mrs. Jones is waiting to be WOWED!  Let the show begin!
But crank all you want, your truck mount (or portable or other piece of equipment) just won't start and/or run.  Talk about "all dressed up and no place to go"!  That's right- your lack of maintenance has come back to haunt you!  (Been there- done that!)
First, puhleeease track your machine hours and make preventive maintenance a routine priority.  Do it yourself or bring it in for professional servicing.  (You know you want at an excuse to check out the new toys at Jon-Don!)  Either way- just do it! The investment you make in routine maintenance will be more than compensated by avoiding ugly breakdowns.
HINT:  Program your upcoming maintenance dates into your cell phone.
Second, puhleeease prepare for the unexpected. For example:
After the routine changing out of all your belts and hoses keep the used ones in the van as  backups. In the event of a broken belt or hose the old ones will keep you going until you can replace them.
What other essential repair parts/tools should be kept on the truck?  Here are a few SFS member favorites:
A spare unloader valve.
A high pressure solution pump valve and seal rebuild kit.
Spare rotary extractor felt seals and valve kits.
Cleaning and upholstery wand spare valve along with extra quick connect sets.
Spare filters and miscellaneous brass fittings, hose clamps, silicone tape, heat wrap, extra electrical wire and the ever useful duct tape and baling wire!
NOTE:  I found vibration was almost always the culprit with non-starting truck mounts.  Vibration leads to loose electrical connections so check these first.  That's why we always kept a box on each truck with various crimp-on connectors and a crimping tool.
And what good are spare parts without tools? So we had a personal toolbox assigned to each tech with a hammer, screwdrivers, wrenches, pliers, an electrical meter and a good flashlight with extra batteries.
Steve Toburen
PS: So what onboard tools and parts did I miss? Your comments invited below.
Every week we share a timely, practical tip like the above. So if you're not already signed up for these FREE weekly QuickTIPS, do so now.
This week's FOCUS: In-the-home Do's and Don'ts

DON'T bash the customer about their dirty carpets

DON'T alienate the customer with cell phone usage

DON'T "oversell" the Scotchgard application

DON'T be "too friendly" with the customer's kids

DO properly introduce yourself and your team members

DO use caution while moving the customers furniture

DO something extra after the job

DO educate the customer on post-cleaning dangers

Download: Up-Selling Scotchgard in the Home

Download: Carpet Cleaning Inspections that Sell
Also new this week: