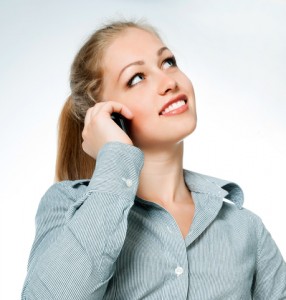 Three of the saddest words in the English language: "Coulda, shoulda, woulda…" And yes, I've been bitten by these three babies far too often! How about you?
Could you have sold more commercial contracts? Should you have set up a prepaid, residential maintenance program? Would you have done things differently over the past year? In other words…
Are you facing a long, dark winter with little (or no?) work lined up? If so, don't fall into the 'bad winter/ no cash flow blues'! Instead…
Reach out to your past customers with an 'excuse for calling'.
Your goal? To grab your client's attention (and money!) without appearing 'desperate'. (Even though you very well may be!) So try my 4-Step Get-More-Winter-Work Phone Script…
1. "Hi Mrs. Jones, Sally Smith here with Jon-Don Cleaning- your carpet cleaning company.  Am I calling at a good time? (Wait for response.)
2. "Mrs. Jones. we cleaned for you last (insert month) and always call our clients over the winter to offer to remove up to three spots or spills from the carpets we cleaned last year absolutely free. We know after the holidays your carpets can suffer and this free gift is our way of saying thanks for your business!" (Wait for response.)
3. "You're good? Great. And how are your living and dining room carpets looking overall?" (Wait for response.)
4. "Mrs. Jones, we are also running our "Open Areas Special" during January where we'll re-clean all the open areas of your rooms we cleaned last time for half price.  (Look down at her prices you have already pre-calculated from her past invoice.) In your case that would be 50% of 243.20 which means for only 121.60 your living room, dining room and hall will look like new again! I do have a truck in your neighborhood next Tuesday…" (Sally lets her voice trail off here to prompt a response from Mrs. Jones.)
Or even  better replace Step #2 above with: "Mrs. Jones, you'll remember last July we left you a bottle of our free Lifetime Carpet Spot Out? It is in a white bottle with a yellow and blue label and a flip top cap. We'll be happy to deliver more absolutely free if you need it." (Wait for response.)
Now what if you didn't leave Mrs. Jones a free bottle of Lifetime Spotter? (Why not?) Then just ask how her 12 Month Spot and Spill Warranty (that you included free with her protector application) is holding up.
Folks, reaching out to our clients kept my techs busy all winter. (When we weren't extracting massive water losses from frozen, broken pipes!) So over this winter call (or text) your previous customers!
NOTE: I do recommend a "neutral" third party (your secretary, spouse, mom or even a different tech) call the client instead of the person who cleaned the home last year.
Commercial HINT: Reach out to the employees of your commercial accounts with this free "time sensitive" 50.00 Gift Card.
Restoration HINT: Keep your roving restoration crews safe with these Winter Survival TIPS. And CLICK HERE to see "Steve's standing in a snowstorm" video!
Steve