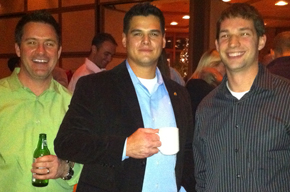 Property damage restoration and I first "met" in February 2000.  I was just out of the service and had no idea that such a business existed when I was hired by a large restoration company.  Since I was very much used to "dotting the I's and crossing the T's" in everything that I did in the Army, it came natural to me to seek out the best systems to incorporate in my new job as the "contents supervisor".
As I learned the in's and out's of the restoration business (with all its glory and pitfalls!) I knew that this was the work I wanted to do.  Actually, it was a breath of fresh air since there was not a direct fit for me in the civilian world as a former Airborne Infantryman, and I knew that I did not want to be in law enforcement or security.  Restoration work was both challenging and truly rewarding!  Never the same and never boring!
After about a year of managing the company's contents cleaning, I was sent out to scope and sell jobs.  This was where I really got excited because quite honestly I realized that this was where I would be able to move up in the company!   I had attended IICRC classes at Jon-Don over those first 2 years and when I read the description of Strategies for Success (SFS), I knew I had to attend to bring me to the next level.  I begged my boss to send me and it actually happened!
I first attended SFS back in early 2002 or 2003 and loved the presentation!  It had an immediate impact on how I saw things in the industry and paved the road for me to "knock the socks off" of my restoration customers who then raved to their adjusters about our customer service.  So I was able to build a book of business with insurance adjusters over the next 4-5 years that enabled me to not only make more money but also enamored me as the back bone of the company in the eyes of the owners.
Eventually the company was sold and I "enjoyed" a first hand education on how a company acquisition could affect a business and not in a good way!  Although ownership with that company took a sharp left turn, working there gave me some of what I needed to eventually start my own business.
So I left that company after they sold and took a position at a national restoration company.  After 7 months with them, I knew that I was in the wrong place and an opportunity presented itself to me to start Platinum Restoration.  It felt like I was jumping off a bridge when I quit my job and Platinum Restoration was born!
I used every bit of the knowledge that I had retained from the first time I had attended SFS with my new employees and business partner who had no experience in restoration.  I sent him to SFS the very next year and I also re-attended SFS in the fall of 2010.
To be honest we probably only use 20% of the principles that are taught in SFS  (hopefully the most important 20%!) and yet we have been very successful with those.  I look forward everyday to implementing more SFS concepts!  I strive to mix SFS ideas with our own creativity and other business mentor type publications and resources.  That's the exciting part!
The fact that we have so much more to tap in to with SFS is both refreshing and enticing.  I won't brag about numbers, because it is a humble reminder that others are very successful as well, but we have nearly tripled our sales over the last year, have recently purchased a brand new truck mount, and started a sister company that will concentrate on capturing commercial and residential carpet, upholstery, tile and grout cleaning.
I attribute most of this success to the SFS course and most importantly the driving philosophy behind it- Jon-Don's motivation to making us all better at our craft!  I would not have the time to create the Platinum Carpet Cleaning arm that we are currently launching without this support.  Thank you, Jon-Don and SFS!
Tom Barr CR #569
Platinum Restoration