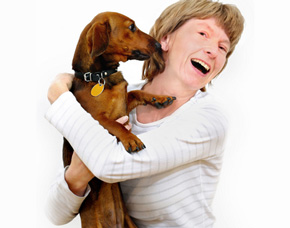 Talk about a "love-hate relationship"!  PETS!  Customer's animals can provide some of the nastiest, stinkiest messes you've ever dipped your hands into.  (Been there- done that!)  And yet …. we're talking job security here thanks to pets!
No matter how much you may despise that little furry ball of pee and feces trying to gnaw on your ankle remember that the homeowner LOVES her pets.  So you must show care and concern for the little darlings.  Two reminders  …
In your initial introduction ask if there are any pets inside the home that could escape with the door cracked for your hoses.  If so, "I love pets.  What is your dog's name?  I'd really appreciate it if you could secure Rover for his safety."
Carry 3 or 4 gourmet dog biscuits pre-packaged in a Zip-loc bag with your business card in it. Then as you "introduce yourself" to the dog ask your customer if they let other people feed their pet. If they say yes, explain that you love dogs (you really do- see above!) and ask "May I give Rover a treat?"  If the home owner says no then hand them the bagged treats and explain that they are to reward Rover for his (hopefully) good behavior. Either way a positive Moment of Truth for your pet-loving client!
NOTE:  We shared a great resource for cat-loving customers last August.
So how do you create positive Moments of Truth with pet owners?  Share your tips in the comments section below or email me at sfs@strategiesforsuccess.com
Steve
P.S.- Specialize in pet odor removal for extra income and market differentiation. Right now, get the "How to Make Money in Pet Odor Removal" DVD at a 40% discount.
Every week we share a timely, practical tip like the above. So if you're not already signed up for these FREE weekly QuickTIPS, do so now.
This week's FOCUS: Handling customer complaints

Cleaning professionals- Can you improve your apology technique?

Cut your home owner complaints with "Spot and Stain Cards"!

Search out your Restoration Customer's concerns

Problems with the Insurance company. How can I help? Should I?

Never doubt the power of a Negative Cheerleader!

Give your restoration customers a tasty remember …

Never "oversell" Scotchgard to your residential customers

Download: Carpet Cleaning Inspections That Sell!

Download: 12 Secrets for a Smoother Running Restoration Business
Also new this week: