Time is money. So, the less time you spend at each job the more money you make.  (Well, duh!)  Yet you need to SLOW DOWN while communicating with your customer.  In fact, after your 5-Step Introduction Sequence you will ask the home owner:  "Would you give me a quick tour of what I'll be working on and show me any special concerns".  Do NOT "cut corners" during this initial interview phase!
So where can you "tighten up" and speed up the cleaning process? Here's just one technique to increase your cleaning power while cutting your setup/break-down time: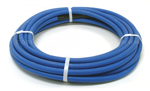 Many residential carpet cleanings seem to require just a little more than 100′ of hose.  So use 100′ lengths of vacuum and solution hose for your standard truck-mount setup and then have 25′ sections ready to go in next.
These shorter lengths will work great for those jobs that need just a 'few more feet' instead of having to break out a whole extra 50′ section.
Little ideas like this will make your business into a fast and very profitable cash flow machine!  Plus you can take some of your "extra time" to SLOW DOWN and create a Customer Cheerleader!  And your well-organized service vehicle and workflow means you'll have a great attitude and enjoy your day (and life) more.  Works for me!
Steve Toburen
P.S:  Please email me your neat little production TIPS that let you clean better/faster/more efficiently!
Every week we share a timely, practical tip like the above. So if you're not already signed up for these weekly QuickTIPS, do so now.
This week's FOCUS: Niche marketing ideas

Presenting at "ladies club" meeting?

Wear a bow tie while cleaning?

Big business marketing applied to small cleaning business budgets

Help your employees "do good" in the community

Focus on neighborhood associations

Download: Pet Problems: I Smell Money!

Download: The Dirty Dozen Fabric Problems and How to Eliminate Them