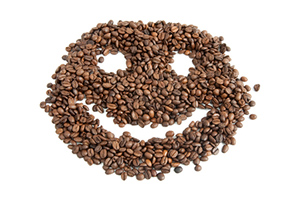 It's no secret that I am a Starbucks junkie. None of those sissy drinks with fancy names for me!  Just a Grande Bold with no room for cream!  So when I tried to pull out my Gold Starbucks coffee card last Friday it wasn't there.  (It is so sad to see a grown man crying and sniffling about a lost Starbucks card in front of a line of people waiting to get their all-important first shot of caffeine.)
I knew exactly where I had last used it- Terminal D in Atlanta Hartsfield airport. After nearly stripping down at the Starbucks counter and finally resorting to using cash (how humiliating!) I went home terribly depressed.   I searched through my luggage, my clothes, jackets, car, garage floor but still no card.
Over the weekend I didn't tell anyone because I thought my Starbucks card would somehow mysteriously appear on my desk. Monday morning came and still no card. I finally confessed my loss to my daughter (who was a Starbucks barista for a few years) and she said, "Dad, just call Starbucks and they will take care of it."  Yeah, right …
Honestly, I believed Jennifer still had that endearing bit of naiveté that is a characteristic of youth.  After all, several decades of dealing with customer service on the phone told me calling any major corporation about a crummy missing card would not be fun.  But just to make her happy …
So when I called Starbucks the very personable operator just asked for my name and address. She said, "Well, Mr. Yeadon, it looks like you still have $52.10 on the card so we will reload it and send a new one out to you right away!" Flabbergasted I asked, "Uhhhh- what happens if someone in the Atlanta airport found it and used up all the money on it?"  She replied, "No problem- we will reload it anyway!"
I didn't know what to say other than "WOW!  Thank you very much."  With a customer service policy like this I'm sure the Starbucks operators are used to 60 year old men breaking down and crying out of sheer gratitude!
Now a skeptic may say, "Sure.  Starbucks has billions and can afford to take care of you."  But I believe my little episode is just a part of the Starbucks culture that keeps them ahead of their fierce competitors like Dunkin' Donuts and McDonalds. And my guess it isn't easy to maintain this culture.  When you have 15,000+ stores worldwide it is easy to take your eye off that one customer.
Now my question for you is, "What can YOU do in your Value Added Service system and culture that makes that one individual customer go "WOW!  Thank you very much."