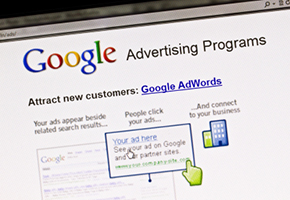 OK! So you have a fantastic professional website that shows off your services, has a powerful call-to-action and is ready to sell. GREAT! Your only problem? Your potential customers don't see it! It's like having a beautiful billboard out in the desert on a deserted road with one car a day passing by!
NEWS FLASH! You need to get your website in front of people to actually make your phone ring! Google Adwords – aka Pay-per-Click – is the easiest and fastest way to make this happen IF you "do it right". However, "do it wrong" and you will waste a lot of money and even worse miss great opportunities to make Cheerleaders!
In the past you had to spend hours figuring out the Adwords Dashboard or pay someone else a bunch of money to manage it for you. Luckily Google has made it easier for small businesses by offering Google Adwords Express. Basically you call a 1-800 number and answer a series of questions and they set it up for free. The only money you spend is the cost per click.
Even though Google has made it much easier to get started there are still some pitfalls you need to avoid with your Adwords campaign. Let's look at the top three:
MISTAKE #1 – Not Spending Enough. This is especially true if you are located in a big city. The more competition you have, the higher your cost per click, so in order to be a player you need to spend like your competition does. The good thing is that big cities have a lot more people searching so if you do it right you can really make your phone ring. I recommend a budget of at least $500/mo for small to medium towns and at least $1000/mo for big cities with a population of one million or more.
MISTAKE #2 – No Compelling Offer. This is where a lot of cleaners drop the ball. You need to give your potential clients a REASON to click on the ad. And just like any marketing campaign there is no magic offer that will work every time. You need to scout the competition in your area and see what they are offering. Ask yourself, which offers are used consistently over a period of months?
Then as Bill Yeadon constantly reminds us in SFS: Test, test, test. So you will need to do testing before you know what works best and then continue to test your offers. Don't get in a rut with your ad. The two great things about Adwords is you can easily change your ad and test multiple ads at the same time.
MISTAKE #3 – Low Average Job Price. Here is the biggest reason cleaners don't do well with Adwords. If you aren't making enough profit per job then Adwords simply won't work. After speaking with several successful Adwords users I noticed that there was one common denominator…they all had average job sizes of two hundred dollars or more.
The winners with Adwords are "masters of the upsell". (Remember that I'm not talking about bait-and-switch tactics here- just gently orienting your client on other services/products you offer.) Successful Adwords users simply have sales processes that work. For example, one of my clients consistently makes a 700 to 900 percent return every month.
So, let's review how to succeed with Google Adwords. In order to make it work you need to a) spend like the competition does, b) give people a reason to click and c) make sure you upsell on each and every job. This is how you get your website in front of an audience, get the calls coming in AND make a profit from your Adwords campaign!
Joe
Joe Burnich operates a carpet cleaning marketing and web design business. Experience with his own carpet cleaning business makes him uniquely qualified as he incorporates the "practice what you preach" philosophy to help fellow carpet cleaners succeed as he has. Contact Burnich at (406) 214-6504.