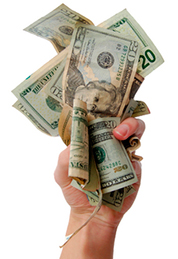 "Profit"? Yeah, you know- that extra amount over-and-above what you would be paid as an employee to do your daily work! "Profit" is the well-deserved reward you get for your blood/ sweat/ tears and yes, at times agony and stress of owning your own business!
You deserve to make "OBSCENE PROFITS" (Is there such a thing?)  and yet the vast majority of cleaning and restoration contractors sadly… DON'T! So humbly submitted here are my TOP TEN Ways to Make More Profit on Each Job!
NOTE: To access the Special Reports below you will be asked to complete a one-time-only, quick and easy registration form. After you log in the first time with your user name and password just click the "Remember me" box and from then on you can access all the Reports automatically when you visit www.SFS.JonDon.com
And let us know your "Smart Ways to Make More Profit On Each Job" in the comments space below!