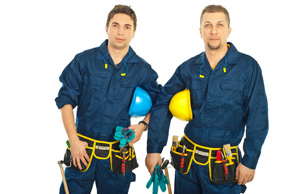 Sure, the downside of two techs on a truck is obvious- an extra employee "dead-heading" during travel time!  But the advantages are compelling …
Create a more secure atmosphere for the home owner by putting two employees on a carpet cleaning truck.
Instead of being alone with a single tech (usually male) in their home residential clients (usually female) just feel more comfortable with two employees.  Plus with two techs you have a witness in the event of an assault or theft accusation.
I've been preaching the two-person crew concept for a long time. There are so many advantages. Two techs mean faster production, better morale, (carpet cleaning is brutally HARD physical work) more flexibility and higher sell-ups because the job can go on while one tech focuses on the home owner. And as noted above, customers are quite correctly more concerned about their personal security than ever before. So much so I would even advertise running two-person crews as a "differentiation factor" to separate my company from my competition!
NOTE:  Another huge advantage with two-person crews is always having a "crew chief in training" in the event of an employee quitting or if you want to add another truck.
We would usually have two techs on most trucks with one van manned by a single employee out doing spotting calls, empty apartments and other small jobs. Plus I always tried to have one back-up unit just sitting at the office to take care of those highly profitable "I just have to have it done today" calls.  With two people on most vans we could usually split a crew up and take care of these highly profitable jobs. (I just HATED sending new prospects to my competition!)  If all the guys were booked solid, the boss would throw on a uniform shirt and go play carpet cleaner!
Steve
P.S: Have you made two-man crews the norm in your company? How have you made it work? Join the conversation by commenting below.