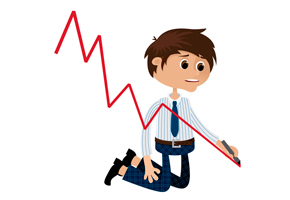 Question: What can I do when my calls drop off?
Steve's solution(s): Look in the mirror first, ask yourself some "tough questions" and then start "reaching out" to your past clients.
Hi Steve & Bill,
I attended SFS a couple of years ago and it was an incredible experience. But recently in our Philadelphia area we have noticed a dramatic decrease in calls/emails that were completely unexpected.  Typically in the winter times things are slower, but the last 2 months so far have been horrible.  Last May was our best month in business we grossed over $24k, total of $150k gross annually (our 3rd year in business), this year we'll be lucky to do 20-30% of that in for the month of May! (I have not seen this drop in over 2 years.)
We are worried about what the future holds for our area.  Keep in mind our company has the highest reviews on Google within a 20 miles radius and we also have over 50 A/B rating reports on Angie's list. (We have not seen an Angie's list client in over 45 days).
I look forward to your reply and advice.
Puzzled in Pennsylvania
Wow, Puzzled, I feel your pain!  That is a substantial reduction in your business!  Here's some non-guilt finding questions for you to ponder, Puzzled, and then I'll give you a few observations.
1.  Could it be you've gotten a bit complacent?  Fast and lucrative growth such as you've experienced in the past can breed complacency in the best of us!
2.  How about running a "loyal customer" special enticing past customers to have their carpets cleaned?  "Clean two rooms and the third is free" sort of thing.  Or maybe re-apply Scotchgard finish at 50% off?
3.  Did you ever implement the Stay Beautiful program we talked about in class?  This is perfect for this type of slowing situation because most people will not cancel it- they just keep letting the small monthly payment getting withdrawn from their checking account/credit card.
4.  Do you need to look at diversifying into other markets/ services?  For example, one of our SFS members does GREAT in Chicago restoring decks.  So much so that "deck renovation" has morphed into his main business and he just cleans carpet as an "add-on"! 🙂
Or what about hardwood floor cleaning/restoring?  (Not sanding/refinishing.)  You'll remember from our five day SFS: Business Transformation how much I love the hardwood floor gig!
And finally (you won't like this) how about hitting the pavement and getting regular commercial work signed up?  (I promised you no guilt but if you had done this right after SFS you might not be in the pickle you are now!)
OK, enough of the questions!  Now for the observations:
A.  Don't panic.  You have sown lots of seeds- they just might be slow coming up this year.  Get busy (see above) instead of waiting for the phone to ring.  Remember Chuck Violand's saying: "Luck favors a body in motion."
B.  Can you cut business or even better personal overhead?  Quit going out to eat, etc.  This frugality will lower your stress factor and who knows- you might be healthier!
C.  Once when we hit a very slow patch our staff started calling all our previous customers and asked if they needed more of our Lifetime FREE Spotter?  (Are you doing the Spot-Out program?)  It was amazing how many of them said, "I've been meaning to call you…" and I booked a bunch of jobs off of it.  So "use an excuse" to call your clients again.
D.  Finally, to paraphrase Winston Churchill, "Never, ever stop fighting"!
Let me know how things are going.
Steve Toburen