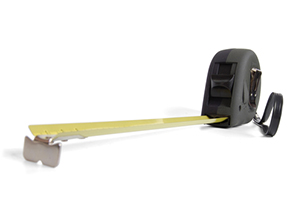 You measure everything since that's how you price much of your work. And then if you know your production rates you can set your prices to make a profit!
Remember that your average customer (including many adjusters) is totally ignorant of how you determine your prices. In fact, they may try and "micro-manage" your measuring by saying: "Uhhh, are you going to deduct for under the piano?" Here's your solution…
Never "bicker" on HOW you measure or price an area.
Residential HINT: Upon arrival ask your client, "Please give me a tour and show me any areas of special concern?" (Check out "step 2.a" on this Residential Pre-cleaning Inspection Script– Keep them busy and they won't focus on your measuring!)  If the home owner still "nit-picks" on subtracting for furniture, etc you just reply, "I'm factoring that into my final recommendations."
Commercial HINT: Especially on my commercial "Stay Beautiful" proposals my recommendations usually did not include square footage- instead I just listed out areas and frequencies. I also normally did not specify type of cleaning. (The only thing worse than bickering over square footage is fighting with a property manager over which method you as a professional will use.)
Restoration HINT: Almost all my price/measuring disagreements with an adjuster were due to poor communication up front. So set up an online, password-protected "shared folder" for each adjuster. (Or property manager.) Now you can load in for-their-eyes only photos, measurements, building plans, equipment placements, moisture readings,etc. (Remember on emergency water losses to tactfully take control with a Water Damage Customer Interview form.)
NOTE: The best way to avoid measurement bickering? Only write down the square footage, not the length and width of the room(s). Also measure quickly and "authoritatively" by using a Laser Distance Meter. (Just WATCH this video.)
Steve
Every week we share a timely, practical tip like the above. So if you're not already signed up for these FREE weekly QuickTIPS, do so now.
Also new this week: