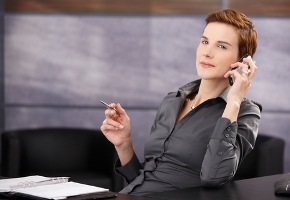 I'm sure it happens to you all the time. Your superb work (and your cute smile!) creates yet another Customer Cheerleader! So your client rapturously asks you, "Do you have any business cards and I'll share them with all my friends!" GREAT!
But remember while your new Cheerleader has good intentions they often forget once you leave. So strike while they are still "gratefully enthusiastic" about you and the great job you have done. Here's how to benefit from your current "customer rapport"…
Simply reply, "Thanks so much! In fact, can you think of anyone right now? I'll even give them a 'referral discount' just because you told me to get in touch with them!" Then whatever candidates your customer mentions just ask…
"So may I use your name when I contact them?" 
99.99% of the time your Cheerleader will happily agree to be used as an "opening reference". So now you have a "warm call" when you say, "Sam Jones over at PDQ suggested I contact you about…" (This is soooo much better than a dreaded cold call!)
Restoration HINT: Have you helped an insurance agent keep a homeowner's future business thanks to your great Restoration Value Added Service? Then just ask the agent, "So, Bill, who are your main property loss adjusters? May I tell them that you were impressed with how we handled this loss?"
Commercial HINT: Facility managers and building owners are a close knit group. So when you have built a great relationship with one simply ask, "Can you think of any other Property Managers or building owners that would appreciate the same great service we give you?" If they give you any leads just say, "When I call on them may I mention that you referred me?" BINGO! Now you have turned a stressful commercial "cold call" into an easy "hot call"!
NOTE: Don't forget this neat trick to tie adjusters and property managers to you forever!
Steve
Every week we share a timely, practical tip like the above. So if you're not already signed up for these FREE weekly QuickTIPS, do so now.
Also new this week: