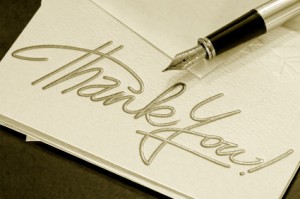 OK, Steve, now you have me interested. On one hand a few days ago you said only give your Cheerleaders Value Added Service PLUS a hand written thank you note. But I also note you promote giving a "kickback" with the Jon-Don "Free Spotter for Life" program with Jon-Don's Spot-Out program. Is it because you are raking in big bucks on your Spot-Out commissions????
Forgive Me in San Diego
Good question, Forgive Me, but the answer is no. Because the key to the "Free Spotter for Life" program is to "throw your bread on the waters" so that it will come back to you many times more in loyal Cheerleader referrals. (Plus while I do take credit for inventing the Free Spotter for Life" program AND for bringing it to Jon-Don I don't receive a penny in commissions on it.)
Kickbacks are given because of an action (referral) by the client. We strongly recommend you give the spotter to the customer without reservation and only then MENTION that you would appreciate any referrals.
Customers do so much better without any overt pressure from you. But once again, whatever floats your boat, my friend.
Steve Toburen
P.S. Remember, if you are targeting your marketing correctly, you should be cleaning in homes that whatever you could offer them in a kickback/referral fee/commission is nothing compared to the "good feelings" you can give just by treating the customer as a feeling human. (and by doing a good job). We call this Value Added Service in SFS and just maybe you'll actually have to come to the seminar to learn HOW to do this stuff.