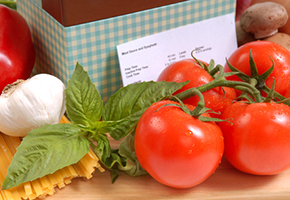 Several years ago when I was in Chicago teaching a Strategies for Success class at Jon-Don, Angela Buege (formerly known as Angela Paolella, the daughter of Jon-Don's owner, Nick Paolella) gave me a recipe for her spaghetti sauce. Since Angela is from a Chicago Italian family I figured it had to be a winner. Was I ever right!
But as I was preparing to make the sauce for my family I noticed the recipe called for far more ingredients than I ever put in a sauce previously. Was I misreading the recipe? Did it really call for all these ingredients? I couldn't even pronounce half of these foods much less know where to buy them!
Well, in spite of my doubts, I forged ahead. After cleaning out my house of garlic, basil, oregano and a half dozen other herbs and spices plus borrowing other ingredients from my neighbors the sauce was finally ready. Wow! What a sauce! It instantly became a Violand family favorite and it continues to get rave reviews from everyone I serve it to. So thanks Angela!
Looking back on this whole spaghetti sauce episode I realized that I learned several business lessons. (Yes, there are business lessons even in spaghetti sauce!)
The first lesson I learned was that I needed to suspend my beliefs about how a good spaghetti sauce is made. In other words, I had to go beyond what I thought I knew about spaghetti sauces. Now, keep in mind, I have always fancied myself a decent cook and this wasn't my first trip around a kitchen!
But this spaghetti sauce showed me just how inexperienced I really was. It was a classic case of "not knowing what I didn't know". In business we build our companies based on what we know. But what we know isn't always everything there is to know.
So, until we take the time to learn (or someone takes the time to teach us those business lessons we don't already know) we are limiting our companies to the smaller universe of the things we do know. (In SFS Steve Toburen calls this a "with the dawn comes the light moment"!)
For example, let's look at finances. 1) Most business owners know they need to make a profit in order to stay in business and grow. However…
2) Many business owners don't know how much profit they're making OR even whether they're making a profit! Sadly, some think that as long as they're paying their bills, they must be making a profit.
NOTE: The reason owners don't know how much profit they're making is that a) they don't keep track of the information (receipts, checks, invoices, etc.), b) they don't assemble the information (do the bookkeeping), and c) they don't report and interpret the results (print and read their income statements) to determine this information. Yet when you know that you don't know something, you can easily remedy the situation. So here is an even bigger danger…
3) Something many business owners "don't know they don't know" is that the most important financial equation in business is not Sales – Expenses = Profit. Rather, it's Assets – Liabilities = Equity. And earning a profit is only one way to increase equity. Hmmmm… something to think about not knowing!
Some ways you can discover what you don't know you don't know are to read, take classes, hire a consultant or talk with and listen to successful people. (Such as the ones you'll find teaching AND attending a SFS seminar!) I'll share more spaghetti sauce lessons with you in my next SFS Instructors Blog post.
Right now I need to go stir my sauce!
Chuck Violand (more about Chuck)
SFS Instructor
CEO Violand Management Associates