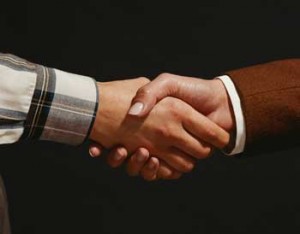 Question: Can going into a partnership be a good thing?
Steve's Answer: Very likely… NO! But it all depends on what type of partnership you are considering.
Dear Steve.
Did you ever think about taking on a partner for your business? I have been always tossing around the idea. It would sure be nice to have another person take some of the heat and pressure off my shoulders and maybe I could actually take some time off! I just find that any employee won't take care of things as I do.
I have a friend who has a carpet cleaning business. We've been casually talking about becoming partners. I would just like to know if it would be possible or worth it. He is a solo operator too but wants the same things I want out of life.
So tell me, Steve, are there ANY positives to a partnership like this?
Timidly Looking down the Road in Portland
Dear Timidly,
Simply put, NO!  However, I do "feel your pain" on being all alone!  Been there- done that.  This is a lonely business so your desire for a back-up is understandable. Who doesn't want to "clone themselves"?
BUT, the dangers are many and frankly, Timidly, while you are understandably searching for an "upside" here there just isn't one.  Let me cut to the chase here:  1) NEVER, ever give up equity and 2) never, ever give up control. Instead, Timidly, why not hire this fellow and tie him to you with a generous profit sharing package and retirement plan?
NOTE: Or why not form a "Strategic Partnership" with your friend? I love this concept and especially for an owner-operator!
Not to whip a dead horse, Timidly, but sooner or later, you will want to "cash out" and retire. I know of several small business people who are in otherwise very successful and happy 50/50 partnerships who would like to cash out and retire but they can't. Here is their problem…
20 or 30 years ago when they took on a partner to "share the load" they never dreamed the day would come when they would want to retire, much less that someone would actually pay for their business. But now that day has come … and gone … and when the pie was going to be split up there just wasn't enough to retire on!
But if the partner had never come in, the sale price would have been more than enough to cash out in style!  So once again …
Never give up equity! Hire talent, pay them well, treat them with respect and dignity, but never give up your "future profits" tied up in the sale of your company.  The eventual price you will pay both financially and emotionally for the so-called "support" of a partner now will likely be enormous down the road!
Sincerely,
Steve Toburen
Director of Training
Jon-Don's Strategies for Success
P.S. Remember that there are only three reasons for a partner:
You need his money- Don't do it.  BORROW money from a bank!
You need his skills-  Don't do it.  HIRE skills.
You need his emotional support- Don't do it!  That's why you have this SFS web-site and "Steve's Bleeding Hearts Club"!  Let me be a "shoulder to cry on" and I won't take half of your company!