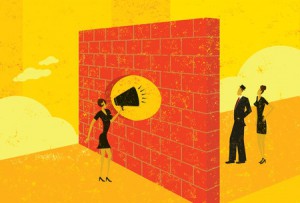 You are a nice guy (I assume!) so nobody likes to tell you "no". Instead, they put you off with the good, old, smoke screen: "Let me check with _______ and I'll get back to you." And you never hear from them again!
These "Procrastinating Prospects" are using a "Smoke Screen Objection" to hide their real concern which is "Your price is too high"! You must "smoke out" their real issue to close the sale.
I've already covered how to "smoke out" price issues in residential HERE. But what can you do when a commercial contact looks at your proposal and says, "Let me check with my boss on this…"? Simply reply:
You: "I understand, Bill. But while I'm here let me ask you- what will your boss say about how I have my recommendations written up?"
NOTE: Remember that "Bill" already knows what the other bids are. But when you make this a "Third Person Question" about the feelings of his boss he can open up! Let's play this conversation out…
Bill: "Well, (pause) he'll probably say you are a bit high on your quote." (This is great! NOW you have the price issue out in the open!)
You: "I understand. So how can we massage this proposal to give him the cleaning he wants at the budget your company can afford?" And you are off and running! HERE are more commercial negotiating ideas.
Try this "what will your boss say about…?" question next time you hit  a commercial "Smoke Screen" objection!
NOTE: If you are serious about commercial (and you should be!) then you should build "Encapsulation Maintenance Routes" using the Cimex Cyclone!
Restoration HINT: Tired of the "I can't use you if you're not part of our Approved Vendor Network…" Smokescreen Objection?  Then just reply, "I understand! Could you keep my card for when your regular provider can't get to the loss on time? We'll get started and then let them take over." Once you "have your foot in the door" then blow the Insured away with the Value Added Service HERE!
Steve