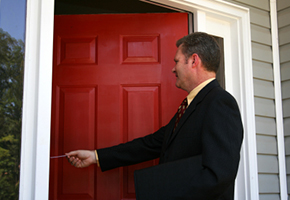 I often ask couples how they met and what attracted them to each other. Almost invariably they focus on that first glance or first few words. Yep, relationships are forged (or lost) based on their first impressions. Now let's get down to your business…
Remember that BOTH your new client AND your employee (or you) are nervous, a bit suspicious and more than a little scared! (Sorta like a "blind date"!) That why in your cleaning and restoration business I want you to…
Obsess over the first 30 seconds when you (or your techs) meet your new client!
Residential: Their home is your customer's "Inner Sanctum" emotion. And in a very real sense emotionally your company is going to "invade" this Personal Space. So train (and have practice sessions) with your techs on this Five Step Introduction Sequence. HINT: Print these steps out and post them on each truck's dashboard.
NOTE: Download this free one page "Home Owner Script" HERE. Or want something simpler? Tape these seven Cheerleader Steps on your tech's clipboard.
Restoration: Now the plot gets complicated! You are facing all the stressful "residential feelings" above PLUS the traumatized emotions of a freaking out Insured! And yet these poor, overwhelmed souls will respond to your Value Added Service like desert flowers after a spring rain!
NOTE: Help your Insureds "blossom" with this free Disaster Restoration Checklist.
So are first impressions important in selling commercial accounts? Absolutely! Let's talk about this real soon!
Steve