The question: As a new(er) carpet cleaner and small Building Service Contractor I'm struggling with the 'how much' of paying my workers. Can you give me any guidance?
Steve's answer: Don't focus on how much your competition is paying. After all, I assume you don't want to be like them! Instead, let's see how you can increase the size of your pot…
Dear Mr. Toburen,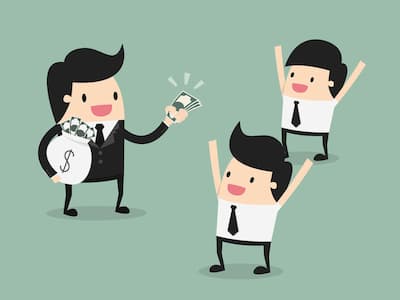 I've had a carpet cleaning business part time for the last three and a half years. I've worked along with four different part-time employees during this time.
I've now recently gone full-time in my carpet cleaning business. I do also have a janitorial business with six small commercial contracts, which helps with a supply of carpet cleaning customers.
I know I would greatly benefit from your SFS Seminar. I live near Seattle and I hope to catch a seminar in the near future. For now, could you give me a few pointers on how to arrange an employee wage and bonus compensation structure.
In the Seattle area, where I live, others are paying their Carpet Technicians $18.00-$22.00 hr. I already pay my janitorial workers $17.00 per hour which is MUCH more than other local janitorial services pay.
I want to pay my employees a livable wage or a wage/bonus plan. Could you give me some pointers on establishing a rate of pay or pay + bonus plan? Along with the factors to consider when setting up a compensation system?
I am needing to hire some more part-time help, but need to calculate what will be a workable wage for each of us. I am trying to work up a business cost/income analysis to facilitate this.
My strengths are in customer service and serving others. My business is ranking high on Google in my area, just based on people's comments on Yelp, Google, and Facebook.
Any suggestions would be very helpful. I am also trying to connect on your Strategies for Success: Growing Your Business Facebook group even though I don't go to Facebook often.
Thank you, William in Washington state
Hi William,
You are very smart to focus on building a team of quality individuals. In SFS I call these folks the Very Best People. (VBP's for short!)
And yes, you will have to 'compete' for these VBP's and one way is by paying more (compensation)! Perhaps L.L. Bean of mail order fame gave the best 'recipe' on how to compensate VBP's when he stated: "I always felt if I paid my employees 20% more than they could earn elsewhere I would get 40% better employees."
Now William, I KNOW what you are thinking! "I can't pay my people more! Plus I'm already paying more than the going wage around here!" True! And why can't you (and your competition afford to 'pay more' in compensation? Because you aren't charging enough! So especially on your residential work (and new commercial accounts going forward) I want you to start charging more.
In every SFS, William, I get a lot of pushback from my students because they are AFRAID to raise their prices and that they will lose existing clients. HERE is my five-step system to raise your prices without losing customers. And I just told a sold-out SFS in Seattle last week to raise their prices every single January! HERE's the why and how!
Of course, William, there is MUCH more to building a Critical Mass Business (a company that will run without you) than just 'charging more'. For example, you absolutely MUST avoid 'Desperation Hiring'.
NOTE: I have an entire session on how to recruit, interview, background check and orient new employees in our SFS: Business Transformation. But meanwhile CLICK HERE to see my seven-step hiring system. And here is a great Employee Efficiency Bonus plan. Please let me know how these systems work for you.
And BTW, you absolutely are correct. Our five day SFS: Business Transformation will be essential ASAP. BUT you're going to have to travel! We just had a five day SFS in Seattle and our SFS Team won't be back in Washington state till 2021 and maybe not then! So CLICK HERE to see our upcoming SFS dates and locations.
And if you REALLY like what I have to say HERE are dozens of more Special Reports for cleaning and restoration entrepreneurs. And yes, you totally should join our 'Growing Your Business' Facebook group. (You don't need to be a SFS grad and there are 1,000's of carpet cleaners on there that will help you. CLICK HERE to request to join and I'll approve you.)
And please write back with more questions even though I gotta tell you I can't match five intense days in SFS with just emails! 🙂
Steve