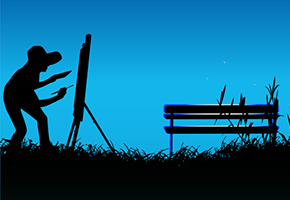 Last week we looked at legendary business entrepreneurs such as Bill Gates who "Seized the Day" by promising software that he didn't even know existed to clinch a deal that started Microsoft.  Bill had to beat The Critic within him that poisons all of our minds with negative self doubt.
A new business owner (NBO) has not faced The Critic as often as his more experienced counterpart and may not know how to overcome the negative mental obstacles he throws up. Listen carefully here:  The NBO who fails to associate with success minded persons or organizations will face The Critic by himself with disastrous consequences!
The NBO should seek counsel of those who have gone before him or her.  This search for advice and help will let you draw in the wagons for reassurance that you are not alone.  So always seek the counsel of other business owners when you feel the stress of self doubt.
The experienced business owner (EBO) who has previously faced The Critic recognizes the danger of self doubt and has learned coping skills to overcome this negative world view.
Additionally, the EBO has learned early on the value of essential tools such as motivational CD's, webinars, seminars, consultants, books by persons such as Brian Tracy or industry specific educational seminars such as Strategies for Success.  (And I will modestly mention ShowMe Marketing Solutions!)
NOTE:  In addition to the help of this SFS "resource portal" and your SFS team any cleaner can and should benefit from the "band of brothers" out there in different industry bulletin boards.
The EBO who faces doubts realizes that business is about change. If certain ideas don't work then they must be dismissed. If certain people within the organization distract from the vision then they must be dismissed! If negative operating procedures exist that present an obstacle to the vision they must be revised. Here is your take-away from this four part series:
The vision – unique to EBO and NBO alike, is the driving force that propels the company to greatness.
The EBO or NBO must be a visionary- an individual who has drawn on their mental palette to create a clear picture (and definition) of success.  This precise "expectation of success" drives the visionary toward his or her goal of creating, nurturing and growing a successful business.  Above all else they must always remember that the one thing they must do is to eliminate (or at least stifle) The Critic. (No one else can do this for you.)
So paint your own mental/emotional palette by using the tools and skills you have stashed away.  (Or will achieve soon when you attend SFS!) As you work on your palette The Critic will be replaced by the positive mental thoughts necessary to successfully own or manage a truly great business!
Knowledge plus confidence aligned with the perception of success WILL overcome the Critic! 
Today is Your Day!
Ivan Turner
SFS Restoration Columnist Ivan Turner is owner of Aero-Dry, a central Missouri water and fire damage restoration company. Ivan has also packaged his unique restoration strategies and offers them to other restorers through his Show-Me Marketing Solutions.