The question: "What tips can you give me for a high class brochure?"
Steve's answer: What are you trying to achieve? Use "personal photos", write shorter, "tighter" copy, use "feature/benefit" phrases and feature your "Additional Service Options".
Hello Steve,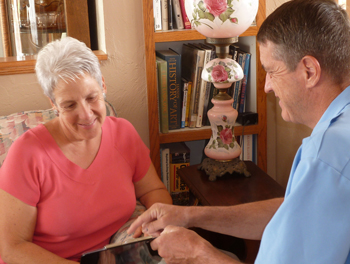 I am currently noodling around doing a color brochure to help with residential sales. And then a separate one for property and facility managers for commercial contracts. (I would also like to do another version for selling to adjusters too for our restoration division.)
The cover page would be my company name and logo and then the inside cover would be a paragraph about my company with a picture of my employees. Then the third page will have statistics, benefits along with before and after photos. And the back cover would contain day of cleaning info and the date/time for their initial service.
Any general ideas and constructive comments would certainly be welcomed, Steve. And any content ideas would be appreciated too.
Noodling in New York
Hmmmm… Noodling. It is tough to comment "completely" without a "completed" brochure. Sort of a "putting the cart before the horse" sort of thing. But you know I'm always a Mr. Impulsive so here are a few comments:
1) "Begin with the end in mind"- So a few questions are always in order first. WHO are you directing this brochure to? HOW will you get it into your prospect's hands? WHAT purpose will it play in driving additional customers to your company and/or convincing current customers to buy more service? To justify the time, creative energy and money you put into it your brochure needs to be more than just "attractive" and speaking of that…
2) Always use people in photos- Big Billy Yeadon says that putting people in your photos add emotion and yes… even business selling is done emotionally. I don't know the size of your projected brochure but if it is large enough you might consider a front page patchwork of 3 to 7 photos to show off your different services. You can also include a high class couple welcoming people at their front door and the ubiquitous pet shot. (Looking quizzically at the camera- NOT urinating on the carpet!)
3) Be super careful about typos and bad grammar- Since cleaning and restoration contractors are not known for our English grammar skills always enlist the help of others. Invite your spouse, kids, friends and employees to chime in. Plus the internet offers many low cost proof reading options. And speaking of copy…
4) Less is more- We tend to write the way we talk- sort of ambling along with lots of detours. This type of business and sales copy is a KILLER in today's impatient, ADD world. Nobody will read your brochure (or worse your web copy) if you write "long-winded". I highly recommend every entrepreneur read a 30 year old classic "On Writing Well, 30th Anniversary Edition: The Classic Guide to Writing Nonfiction". This will be the best nine bucks you ever spend!
5) "the third page will have statistics, benefits along with before and after photos"- Just remember the time-honored sales principle of "feature/benefit". For example: "We use truckmounted cleaning plants with powered rotary cleaning heads. This extra power means your carpets will be cleaner, faster drying and more beautiful than you believed possible!" Remember "less is more". As a general rule no sentence should be more than 12 words long. Bulleted points with lots of white space is better than dense copy. And I'm not a big fan of lots of statistics.
Just thinking things through here, Noodling, one way to justify your development cost of this piece would be to list your "Additional Service Options". (Scotchgard, upholstery cleaning, garage floor renovation, deck cleaning, etc.) Put these in a check-off list that people literally could check which options they want.
NOTE: Of course, an even better system is to "pre-orient" your customers on what options are available BEFORE you arrive by sending out an "Getting Ready for your Big Day" orientation email.
Also if you are offering a residential pre-paid "Stay Beautiful" maintenance program this is where a high class brochure to give to the customer would absolutely shine.
Let me know how you are doing and most importantly HOW you will actually use this no doubt great marketing piece we are developing together!
Steve