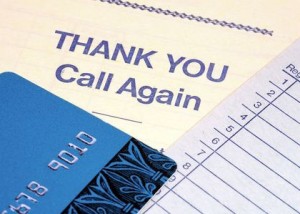 You did a great job, your customer loved you and… you never hear from her again! How could your happy customer forget about you?
Why do you suffer from this insidious 'client erosion' even when they loved your work? Simple…
Many customers simply can't remember your name or contact info! So you must:
Constantly remind your clients who to call 'next time'!
Here's how to do it:
1. Free 'Lifetime Spotter'- Every time your client removes a spot they see your name and contact info! Then when your grateful customer gets a new free Lifetime Spotter they will call you again! (Check out my "reciprocal giving" video HERE!) Buy your personalized Lifetime Spotter bottles HERE.
2. Keep on reminding them. This why you want their email! HERE are four ways to get your customer's email address.
3. Call them in six months. HERE are some "excuses to call".
4. Use "time dated urgency". "Mrs. Jones, I noticed your "12 Month Spot and Spill Warranty" is expiring soon. However, I have a truck in your neighborhood next …"  NOTE: HERE is a free "Spot and Spill Warranty" template ready to personalize with your company info.
Your very best "customer forgot about you" antidote? Schedule their next cleaning BEFORE you leave the job! Maybe we should talk about that…
Steve