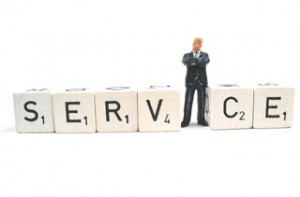 Question: How can I define "good service" in the cleaning and restoration industry?
Steve's answer: It all comes down to two simple factors!
Hi Steve,
Everybody is always talking about giving their clients "great customer service". So what is your definition of customer service in the carpet cleaning and restoration business?
Just Wondering in Dallas
Dear Just,
This is one of those deceptively simple, Zen like questions that can lead you into madness since the more you think about it the more you realize there is no one answer. Or is there?
First of all, Just, obviously "great customer service" is defined by … the customer! All too often, we get wrapped up in "the thick of thin things" and forget that it is our customer's perception (their needs, wants and desires) that count.
Soooo, what does your customer want from you? Two things. (Even if they don't consciously realize they want them.)
1. A solution to their problems. Obviously the customer has some "perceived problems". (Especially in restoration!) No one ever calls you to "come over and admire my beautiful carpets". As cleaning and restoration contractors we are problem solvers … and that is how it should be. NOTE: As an industry we're pretty good at "solving problems". But we tend to fall down at giving…
2. Good feelings. A lot of contractors don't feel real comfortable with this emotional approach. Even though the industry has made a lot of progress I still occasionally hear this when I promote the Emotional Dynamics of working in customer's homes: "I'm just a cleaner. Take it or leave it."
However, Just, remember it is the customer's opinion that counts when we're looking at the definition of customer service and customers make most of their "value decision" emotionally. That is why there are a lot of hard working, highly skilled, knowledgeable AND certified carpet cleaners out there barely scraping by. Because they refuse to focus on the feelings and emotions of their customer.
So my definition of "great customer service" for a carpet cleaner? First, solve their perceived problem (which may not be the technical challenge at all) AND second, make them "feel good" about you (or your techs) and their buying decision.
The result? A delighted, ecstatic Customer Cheerleader that will be an "unpaid salesman" for you for years to come!
Steve
P.S. Hopefully everyone realizes these two "service factors" of 1) problem solving and 2) giving good feelings must be delivered in a sincere and genuine manner.