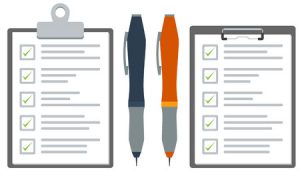 All great businesses (and especially in our cleaning and restoration industry) are built on relationships. After all, your customers love you for your  sparkling personality- not your cleaning skills! But wait!
It shouldn't be "all about you"! As you build a Critical Mass Business (You do want to "git off the truck", don't you?) you must "clone how you communicate" into your (usually young) technicians.
I recently shared some Client Communication Systems that "automatically" create Cheerleaders. Too high tech for you? (They really aren't!) Then fall back on…
Good, old-fashioned clipboards!*
* A clipboard is a great "stage prop" for an often nervous technician. (And for you too!) Clipboards send a silent message: "I'm an organized professional that will do a great job!" Plus the form in the clipboard "structures the job" for your tech! (He or she doesn't know what to say next? Just look down at their clipboard!)
NOTE: Whenever a customer answers a question from your clipboard be sure to WRITE IT DOWN… on your clipboard. This produces a great positive Moment of Truth! For example…
Restoration: Traumatized insureds are all messed up emotionally! (How would YOU feel with 3″ of water in YOUR living room!) So stressed out insureds LOVE a tech tactfully taking control of the disaster. How? By interviewing them using a Water Damage Customer Interview Form. (Click HERE for the form I used.)
Residential: "Stage manage" the job by insisting your employees "follow the script"– a step-by-step Residential "Moment of Truth" Checklist.  (Download mine for free HERE.)
Commercial: What "communication" does a Facility Manager want? NONE! As in no problems! That means your employees must consistently follow the same steps. (This let's your company "blend into the wood work".) So fill out this Commercial Account Profile HERE for every regular business client. Now anyone can perform the same routine system.
Steve