So (hopefully) your phone is ringing off the hook, your days are crammed full and you are making BIG money. GREAT! And yet…
Do your customers feel "cared for" and yes, even "cuddled"? (Remember that "80% of how clients decide if you did a 'good job' or a 'bad job' is based on how they FEEL about the person performing the service"!)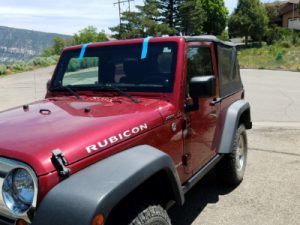 For example, my "baby' (a 2012 Jeep Rubicon) recently suffered a broken windshield. (She's beautiful, isn't she?) The glass company came while I was gone, replaced the windshield and… left! A decent job (I guess!) and yet they didn't care enough to 1) let me know what to expect, 2) what to do afterwards and even 3) how to reach them! For example…
Notice the blue tape they left on my windshield. How long should I leave it on? Two hours, two weeks, forever? (I feel kinda silly driving around with my windshield taped on!) Sooo…
Email each customer 1) how to get ready for you, 2) "after-care" information AND 3) how to contact you again!
Download your free editable "How to get ready for us" email template HERE.
NOTE #1: Customers will quickly give you their email address when you explain that you're sending a "How to get ready for your carpet cleaning" checklist.
NOTE #2: Your email should include a link to your website's landing page listing out all their Additional Service Options. (ASO's) Always give your client multiple opportunities to choose their ASO's BEFORE your tech arrives.
Heck, you could even "break the ice" with your customer by "pre-introducing" your tech before they arrive! Let's talk about this big money technique real soon!
Steve