Note: This is the second in a series of chronicles from Meg Burdick of Burdick's Cleaning. See Meg's previous message here.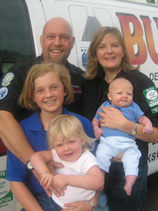 I've been diligently tracking our numbers etc. over the past two years.  This year I really looked at how much of our business was repeat clients vs. new customers.  I keep spreadsheets for BNI referrals, current customer referrals, direct mailer and the newspaper article we were featured in this past September.  Those three things totaled 50.6% of our business in 2009.
NOTE:  I didn't include new business from our website/Google, yellow pages or the IICRC/CRI website, so it would actually be even more.  I have to go back through the invoices and break out that information too.
This is the first time I looked at the numbers this way.  I was really shocked once I did the calculations.  It was quite eye opening.  I had always assumed more of our business was repeat work.  I need to go back and do the same for 2008 to see if we had that much new business then or if it was more repeat and if this is the "trend".
I thought for sure it would have been a higher percentage of repeat customers.  I'm both excited at the percentage of new business and what that means for us going forward, but also scared that we might not be able to keep attracting business at this rate.
So, my question is, where do we go from here in terms of strategic planning?  Are these percentages industry average?  While we have a core group of customers have cleaning done yearly, I'd say most wait 2-3 years. (Is that typical in the industry? ).  How does the 2-3 year cycle play out and how should we be looking at things and planning knowing that?
Steve's comment:  I think you folks are actually even better than typical, Meg.  First because you actually know your numbers (most don't) and are willing to work on them.  (Few will.)  I think your 2-3 year wait time is about average given the recession plus the fact as we learned in SFS that as carpet cleaners we are a "Tolerated Irritation" in the customer's home.  So they put the carpet cleaning off!  So you should continue to keep in contact with the client with your newsletters, postcards, etc and my guess is the sheep will be returning to the fold soon.
I know we need to do better at keeping in touch with our existing client base to encourage more repeat business.  We have been focusing on that this past year with newsletters, cards etc, but we've only been doing that for about a year.  When can we expect to see results from that?  Any other suggestions for marketing to our existing clients so they don't just fade away?  While we would love for the new customers to continue at this rate, we don't want the old ones to fade away, and if the new customer stream dries up, we would be in trouble!
Bill's comment:  Meg, you are one smart lady. You need both old and new customers. The cumulative effect of your regular postcard and newsletter mailings should show up this spring. Continuous mailings stimulate top-of-the-mind awareness. According to recent studies 90% of our decisions come from our subconscious minds. The repetitive nature of these mailings creates these impressions. You should also be building your hub markets such as retailers, real estate firms, vets, janitorial firms etc. Developing a sale route is a great use of slow times as well as busy times. Another SFS graduate, Tom King of Indianapolis, has developed his routes using Microsoft Streets and Trips. I will be adding a short tutorial on this subject to SFS. Hopefully you can stop by our upcoming Langhorne SFS and I will show you how it works.