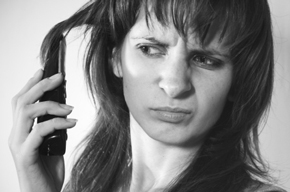 Hi Steve
I'm getting a new phone system. VOIP, all the bells and whistles plus it will save me more than $500.00 a month over my present system!  So what's not to like!  But here's my question, Steve.  This very advanced system also has the ability to have an auto attendant answer the phone with any message I would desire. So for example the recorded voice could say, "It's a great day at __________ .  If you are calling to schedule carpet cleaning and want to speak to a live Customer Service Representative press 1.  If you need info on our carpet cleaning system press 2.  If you want to listen to a recorded message press 3,  etc."  I'm just curious what would you do, Steve.
Baffled in Baltimore
PS  By the way, attending SFS last year has made a huge improvement in both my business and my profits which lets me buy lots of new toys like … phone systems!
Congratulations on the new phone system, Baffled.  It is amazing the things you can do today with phones.  Some of the options are extremely useful.  However, a BIG caution.  Don't let all this technology of what you CAN do blind you to what you SHOULD do.
Technology is great in its place.  But remember the old saying "High tech and then HIGH TOUCH".  Very likely your phone caller has already visited your website, investigated your service using technology (all of which is GREAT!) and now just wants to talk with a live and WARM human being to "seal the deal"!
Of course, for those "cold fish" type of people who just want to cut to the chase (or who are just super busy) logistically you can also offer an on-line scheduling system and that is fine too.  The secret here is giving your prospects a choice.
For those callers who actually take the time to dial a phone instead of contacting you through the website or by email it is obvious they want to talk with a warm and caring individual.  In my humble opinion they do NOT want to navigate their way through a confusing and time consuming series of options.
That's my two cents, my friend, and it is great to hear from you.
Steve
PS  BTW, Baffled, I'd love to see your "story" here in our SFS Success Stories section.