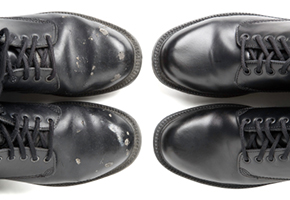 Most of us clean floors. (That's where the dirt is- duh!) So when the client watches the work the technician's shoes will be constantly in view.
Especially for women the type and condition of the shoes worn say a lot about an employee. So it is important to control and monitor tech's shoes AND their condition.
Strike a deal with a local shoe store so your employees can select from a range of approved quality work shoes.
So who pays? Sorry to say it but very likely legally you are on the hook! The good news? If you buy the shoes THEN you can specify your employees must wear them.
NOTE: Your investment in professional shoes will be easily recouped by the negative Moments of Truth you avoid. How? By banning the typical dirty, worn out, flapping sole "technician tennis shoe"!
Once your employees are properly shod make sure their shoes are consistently clean and shining:
1.  Place a stand-up electric shoe buffer by the back door. (With a mirror placed at floor level behind it.)
2.  Make sure each truck has personal shoe shine pads (like the ones found in motels) on board.
3.  Add a shoe shine check to your "Employee Accountability" spot checks.
4.  Don't forget to wear shoe covers and especially so on the newly cleaned carpets. Even better, give the homeowner a pair for every family member. But even with the covers your employee's shoe condition counts.
NOTE:  My thanks to Ian Thomas of Jan-King, Bushey Herts, England for this great reminder.
If you are hosting videos of your carpet cleaning prowess on your website (and you really should be) then PLEASE make sure the tech running the cleaning wand has clean, shined shoes!
So my challenge to you:  Look (I mean really look!) at your employee's shoes. My guess is it will be a scary experience! Now think about your customers enduring the same view…
So what in-home dress and grooming details do you focus on?
Steve Toburen
Every week we share a timely, practical tip like the above. So if you're not already signed up for these FREE weekly QuickTIPS, do so now.
Also new this week: