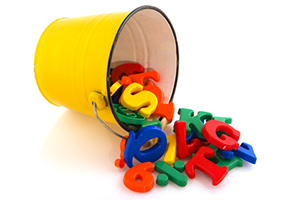 I've stressed before that stressed out residential clients will freak out when you (or your employees) send a disconcerting image with bad word choices.  (For example, never say "spray down" when you can use "good words" like "treat" or "apply".)
Here's some other phrases to avoid along with the better replacement word:
| Bad Word | Good Word |
| --- | --- |
| tear out | disengage carpet from the tackless strip |
| wet carpet | damp carpet |
| clean up the soot | smoke residue removal |
| cut out the carpet | let's do a "bonded insert" |
| rags | cleaning towels |
| dump my tank | discharge the extracted cleaning solution |
| scrub | pre-agitate |
| estimate | pre-inspection |
| fans | air movers |
| chemicals | cleaning agents |
I also asked our site readers to chime in with their favorite "bad words/good words".  Here are a few selected submissions with my thanks to all who contributed:
We have replaced "Chemical" with "Cleaning Solution." In today's green conscious society nobody wants you to come in and "Spray Chemicals" on their living surfaces. Rich Stoutenborough, The Spot Man, St. Louis, MO
Instead of "chemical" we use "solutions".  This word has 2 meanings- a cleaning solution and a problem solver.  Also we never tell a client their floors are "dirty" since  no one wants to think their home is dirty.  Their floors are "soiled." Lars Crampton, JC'S Carpet Cleaning & Restoration, Manhattan Beach, CA
We use the term "refurbish" the carpet protection engineered into your carpet at the factory/mill.  This telegraphs to my customers that we are reestablishing the textile to near new condition and NOT upselling. Michael D. Ellis, DRYEX, Olympia, WA
And for a different take on things one of our readers sent this in:
No, Steve, I didn't change the wording! A hot high pressure "hosing" of their baseboards is included and exactly what I want to convey.  In fact, my biggest cheerleaders tell new clients, "He even hoses off the baseboards for free"! 🙂
I'm OK with this one as long as you don't "hose the client"!
Steve Toburen
PS: Am I over blowing the importance of words? Share your ideas and/or war stories by posting in our Strategies for Success: Growing Your Business Facebook Group. ALL ARE WELCOME! (You don't have to be a SFS graduate to join thousands of other cleaning and restoration contractors helping you in 'Growing Your Business'!)
Every week we share a timely, practical tip like the above. So if you're not already signed up for these FREE weekly QuickTIPS, do so now.
Also new this week: