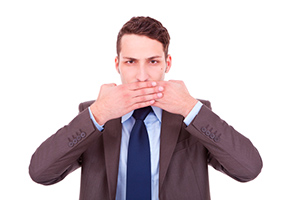 Words ARE important!  And especially so with a homeowner (usually female) that is already nervous alone with a strange technician (usually male) in her home!  In fact, SFS graduates learn that…
The #1 emotion of any homeowner as they wait for a new tech to ring their door bell is FEAR! (Can you blame them?)  So calm your client's worries with the words you (and your techs) choose. For example…
Stop using the phrase "spray down". Why?
Because when your tech SAYS, "I'm going to spray down…" the homeowner HEARS "I'm going to soak down your furniture legs, baseboards, vinyl flooring, drywall, draperies…"  
So replace "spray" with more professional terms like "treat" or "apply".
Example: "Mrs. Jones, now I'm going to pre-treat your carpets with a special cleaning agent that will loosen the soils before extraction and give you a much better final appearance."  
The most profitable word you can use?  "Re-apply" as in: "Mrs. Jones, would you like me to re-apply your carpet's protective ScotchGard finish?"  This phrase alone sold over a million dollars of ScotchGard in my company over the years! Ya gotta love a word like this! (CLICK HERE for more Additional Service Option ideas!)
CLICK HERE  for a list of bad-words/ good replacement words for a cleaning and restoration contractor!
Steve