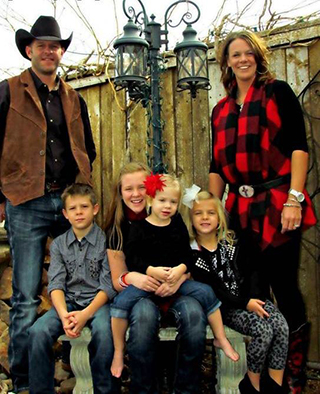 Originally, our company Carpet Tech was started by my brother Chad when I was still in high school. Chad began the business in order to make money to get himself through college at Texas Tech using a minivan with a small carpet cleaning machine inside. My brother was always my hero but as I watched him continue to grow his business my admiration became even greater.
Then in December of 1995, our lives were changed forever. At the age of 23 Chad was diagnosed with terminal cancer. When Chad was too ill to continue with the business my father sold the minivan to a fireman in Lubbock while I graduated high school and accepted a scholarship to play football at Texas Tech.
Chad did not make it to another Christmas. He passed away in September of 1996 and I was devastated. I quit school, quit football and had absolutely no direction in my life. My brother was an amazing person.
As fate would have it, it was not long before the fireman who bought Chad's carpet cleaning van called and offered us the chance to purchase it back. We jumped on the opportunity and Carpet Tech was reborn in 1996. In the beginning, I had no plans to grow the business; it was just something to keep myself busy.
But then I began to dream. I wanted to finish what my brother started by using his vision as the foundation for Carpet Tech. Chad built Carpet Tech on honesty, integrity, and customer service.  I wanted to continue Chad's legacy by using his values.  (And lots of hard work too!)  So I have used all my energy to produce and grow Carpet Tech to honor Chad's memory.
Today Carpet Tech is still building relationships and gratefully accepting referrals for new customers. Our Texas offices are located in Lubbock, Amarillo, and the Permian Basin. Plus our Clovis, New Mexico office services the South Plains, Panhandle and Eastern New Mexico area. (And we have a new location in the works for this year!)
Carpet Tech is the most recognized cleaning and restoration company in the areas we serve with 120 employees including 25 office staff and 6 project managers. We currently run 45 carpet cleaning truck mounts, 5 full time flood units, 2 air duct cleaning trucks and one air duct trailer. We also have 4 construction/board up rigs, 4 fire restoration vans, 1 decorative concrete trailer, 1 natural trailer for natural stone renovation, two 100% dust contained wood floor refinishing truck, numerous other service vehicles plus an assortment of trailers, dump trailers, moving trucks, semi-trucks and trailers and last but not least 3 pest control units!
Our services include carpet cleaning, stretching and repairs along with area rug, upholstery, drapery and mattress cleaning. We even do auto, RV and boat detailing plus general cleaning services and maintenance.
We do a lot of water, smoke and fire restoration at Carpet Tech along with soda blasting, general odor removal, mold remediation and bio-hazard cleaning. We also offer many types of hard surface cleaning including tile and grout, hardwood floors, natural stone care and concrete polishing, engraving, staining and cleaning.
We also provide wood floor installation and refinishing plus construction and general contracting, remodeling, reconstruction and repairs.  Carpet Tech even does pest control, termite treatments and inspections and rodent and animal control and bed bug treatments.
Over the last five years the Strategies for Success program has helped us tremendously! Every time I or a member of my management team attends the SFS seminar we are rejuvenated.  We come back with a new excitement to grow our company and to make changes in a positive manner. We sometimes allow ourselves to slip from being stuck in our daily routines, or stuck in a rut (burn out) I guess you could say.
The SFS seminar gives you the opportunity to break away from your daily routine and focus on growing a successful company.  There is always a need to hear different perspectives as well as see other's success with different concepts. I literally cannot say enough about my experience with the SFS team! What a wonderful experience!  For example…
– Papa Nick Paolella is my hero and I aspire to be like him. The way Nick treats people blows my mind.  He is such a joy to be around and is such a pleasure all the time.
– Steve Toburen might be the smartest man I know.  When Steve speaks everyone in the room listens. (It's like the gospel!)
– Bill Yeadon (although short!) is amazing!
– Chuck Violand is just way too smart for me. Chuck and his staff have helped our entire leadership team tremendously with our finances, procedures, and leadership practices.
– All and all everybody at Strategies has been a huge contributor to our growth and success, both on a business level and a personal level.
We have used many SFS ideas and concepts for improving our company.  Spot Out and Vets Trust are phenomenal. Plus we added Value Added Service procedures like door mats and corner guards.  The SFS concept of providing Value Added Service is an amazing tool for building Cheerleaders.  Having these repeat and loyal customers is Carpet Tech's key to success.
I have attended SFS twice personally and after the second time I still had almost 100 pages of notes and about 200 tabbed pages in the folder! Every time someone from Carpet Tech attends SFS we leave with new ideas. We are currently working on implementing many of these concepts.
I would definitely recommend SFS to other companies. There is never a point in any business that you are the very best you can be. As an owner I know from first-hand experience that there are so many aspects to building a successful business.  Without outside help like SFS some small things can get overlooked.
I definitely think SFS is equally as helpful to restoration and commercial cleaning companies as it is to a residential carpet cleaning company.  We have used SFS strategies and systems in every aspect of our operation.
Jon-Don has been an exceptional business partner.  We could not have done or accomplished near what we have with Carpet Tech without their help and knowledge.  So thank you to everyone at Jon-Don (especially Joy Shaffer) for being so helpful and so willing to go the extra mile!
Chet Pharies, Carpet Tech
Lubbock, Texas