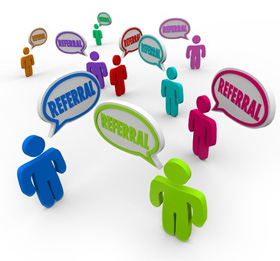 Your very source of new customers? A referral from a delighted Cheerleader! (Do you have systems to consistently create Cheerleaders?) However even better is to…
Develop "Referral Partnerships"!
Partner up with individuals or companies that serve your prospective clients. Motivate these referrals based on a) making their life easier, b) your sterling reputation for Value Added Service, c) helping your "partner" look good and/or d) good, old-fashioned GREED! For example:
Maid Services: Home owners that can hire a maid are my sort of client! If you offer a residential "Stay Beautiful" plan (and you should) this will definitely make life easier (a) for the maid service!
Interior Decorators: Get on their team and you will be swimming in high end work. (b, c) BUT you must be a Fine Fabric Expert.
Real Estate Agents: Help their listings sell faster (a, d) plus give the agent the credit for their FREE air space deodorization treatment (c). (Download the details HERE.)
Facility and Property Managers: Document the before and after carpet condition to reduce their ugly tenant confrontations. (a, c) Even better, take them out of the apartment cleaning equation with this lease wording.
Insurance Adjusters and Agents: Improve your adjuster communications with a password-protected "Shared Folder" and they will fight to get you the loss. (a) With agents create Cheerleaders out of their Insureds and they'll keep referring you! (b, c)
NOTE: Bill Yeadon is the "King of Referral Partnerships" with his free "Hub Marketing" Special Report HERE.
So who do you "partner up" with? Share your ideas below.
Steve