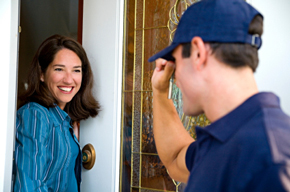 You have a unique opportunity in the cleaning and restoration industry. Getting face to face with your clients which lets you explain the "why and what" you are doing while delivering great service.
Remember, your average customer doesn't have a clue on what defines a "good job" in cleaning or restoration! In fact, 80% of how your client defines job quality is based on how they FEEL about you! (OR your employees!)
So why not "kill two birds with one stone"? That's right, you will build this professional relationship AND help your client "define what a good job is" when you…
Provide great service by explaining (and showing) what you are doing as you work!
Here is the crazy thing. Many techs avoid even talking to the customer! So they blow a great opportunity to a) educate the customer and b) make a Cheerleader by creating a good relationship with their client! How? With "opening lines" like this…
Residential: "Mrs. Jones, do you see how I am using this powered rotary extractor? This lets me clean all the way down in your carpet…" Download your free residential "Cheerleader Script" HERE. (All of these SFS resources are free.)
Water damage mitigation: "I'm using this thermal imaging camera to check for water penetration behind these walls. It is important to dry all these areas because…" Download your Water Damage Customer Interview Script HERE.
Fire and smoke restoration: "May I check inside these cabinets for smoke residue? For complete odor removal we need to find and remove all smoke contamination because…" Download your 12 Secrets to a Smoother Running Restoration Business HERE.
Commercial cleaning: "The counter rotating brushes on this Strong machine dig down deep to get all the grit out of your carpets. So …" Download a Commercial Carpet Analysis form HERE.
NOTE: Our one day Value Added Service for Technicians (VAST) seminar trains all your employees how to "Make the Cheerleader" out of their clients. Learn more about VAST HERE!
Now, get out there and start explaining the "why and what" to your customers!
Steve