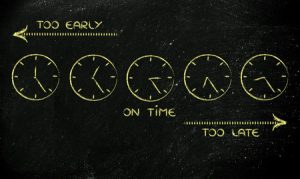 Do you get tired of price-focused phone calls like this: "Yeah, I'm just calling around gittin' prices on carpet cleaning. Are you the people that advertise that there $99.00 whole house special?" I did too until…
I made it a personal challenge to convert some (can't win 'em all!) of these residential prospects into loyal (and very profitable) Cheerleader customers. How? By performing a perfectly scripted 5-step Residential Pre-Inspection! (You can download my free Pre-Inspection "script" HERE.)
But then I fell into a trap. You see, I was a hard-charging, "git 'er done" entrepreneur who was up before dawn every morning. (I still am! I'm typing this at 5:13 AM!) But I learned hard lessons in punctuality …
NEVER arrive early for Residential customers! Why not?
A) Home owners are rushing around getting kids off to school, dealing with problems and many times aren't even dressed and then their door bell rings! GRRRRR! Plus…
B) Customers have been "trained" (by your competition) that service companies are ALWAYS late! So your prospect doesn't even have their place picked up for you yet. (HERE is a great response if they apologize to you about their home.)
NOTE: HERE is a neat way to impress a home owner by arriving EXACTLY on time. (This punctuality creates a great Moment of Truth!)
After booking the job mention, "If your technicians are running ahead we'll call (or text) and see if you would like us to arrive early. And of course we always keep you posted if we are behind too." Then do so!
Restoration: When an Insured has 3 inches of water in her living room you MUST be an "Early Bird"! Even if I didn't have a truck mount immediately available I wanted someone from my company on-site to reassure the Insured in less than 30 minutes! (HERE is my W/D Initial Interview form.)
Commercial: I'm OK with arriving 5-10 minutes early for a "business walk through". (Use this Commercial Carpet Analysis form.) Just wait patiently and work on your emails!
Steve