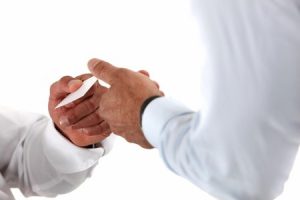 You want to be available 24-7 for your precious clients! GREAT!
So you probably have your cell phone number PRINTED on your business cards. But think how special someone would feel if you said…
"Let me WRITE my personal cell number on my card so you can call me at any time."
Then just turn your business card over and clearly write your cell phone number you normally would have printed on the front. WOW! Now your clients will feel so very 'special'!
NOTE: Don't throw away your old 'business cards-with-your-cell-number-printed-on-them'. Instead, carry both sets and use your no-cell-phone # cards with…
Insureds: "Mr. Jones, I know this water damage is a very traumatic time for you. Let me write my personal cell phone number on the back of this card. Feel free to call me any time- 24 hours a day!"
Commercial Facility Managers: "Let me jot down my personal cell number. With your permission I'll share it with your tenants in the complex. That way they can bother me instead of you!"
Residential clients: "Mrs. Smith, here is my card. Let me write my cell # down in case your husband has any questions. This way you folks can call me direct."
Potential 'recruits': When a possible 'Very Best People' candidate serves you in a store or restaurant say: "I've been impressed with your attitude and hard work. Let me write my personal cell # down. Please give me a call me about a really great career opportunity we have opening up."
NOTE: You are 'competing' for the Very Best People! This means you'll 'raid' other employers to fill your 'employees in waiting' list! Don't worry- they do it to you too!
CAUTION: Give all your employees their very own business cards. BUT remind techs to NOT to give their personal cell numbers to customers. (And ESPECIALLY not to a client's attractive daughter!)
And HERE are 16 hints on improving your business cards! Now git out there and hand your cards out… to everyone!
Steve