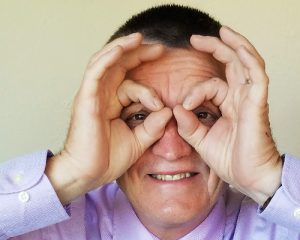 True confessions time: I loved all my "toys of business". Shiny new vans, truck mounts, sprayers, rotary extractors and TOOLS! You too, huh? It is just so much FUN playing with this stuff!
And yet my most profitable "business tool" (that let me retire at 38 years of age!) was a simple gesture formed by my two hands! And I'm giving it to you now!
Just form two circles with your thumb and forefinger and place 'em on your eyes! I call this…
"Putting on your Customer's Eyeglasses" to discover THEIR feelings!
That's right! Train your staff to view their actions through the eye's of their clients.
RESOURCE #1: All of this stuff is so much easier and FUN with great employees! You'll get 100's of recruiting tips and systems in my 3-hour, online SFS: Hiring the Very Best! LIVE seminar. To learn more and/or easily register online click HERE.
Here's the deal- I assume you hire "good people". (Why would you remotely put up with marginal workers? And yet some do!) But even your best workers are an "intrusion" to a home owner and a tech's "Customer Eyeglasses" help them recognize this painful fact!
Sure, you can create checklists, scripts and how-to-behave-on-the-job outlines. (And you should! For example, here are my TOP TEN great manners to always deliver on every job!) But when employees "Put on their Customer's Eyeglasses" you don't have to "micro-manage their job routine"!
To illustrate this, when techs focus on their customer's feelings they'll automatically avoid these ten NEGATIVE Moments of Truth HERE! They will also…
Naturally drive your service vehicles courteously. (And yield to others!) And your techs will…
Respect their client's Personal Space by stepping back from the front door. (And they will instinctively not "loom over" their client.) I could go on and on with more and more "rules and regulations"…
RESOURCE #2: You won't need 'Customer Eyeglasses' if you don't book the job! This is why you need my online SFS: Winning over your caller! LIVE seminar. Click HERE for 100's of 'Lead Conversion' ideas and systems to easily book prospects who use text, email, Facebook, website chat or even… the phone! HERE are our upcoming class dates…
Here is the beautiful thing, folks! When your employees "Put on their Customer's Eyeglasses" they'll automatically and easily deliver the 30 positive Moments of Truth listed out HERE. And your tech's will cheerfully do this without you screaming at them! Wouldn't that be fantastic Business Model? (And an even better life?)
Steve