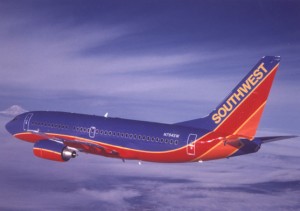 Life (and death) comes at you in some crazy ways.  Sioux and I received notice last week of a sudden and serious illness of a dear friend and within three hours were on a flight to New York.  So now we are attending to both the husband and wife here in Brooklyn Heights, NY.  (She is 85 and he is 92.)
And yet even in these stressful and difficult circumstances in time-honored SFS tradition I'm always looking through "the Customer's Eyeglasses" in all my commercial transactions.  For example, I had to be in Chicago last week for a scheduled Strategies for Success seminar.  (I approve my SFS schedule a year in advance but when it is set that is it!)
So off I go to wage war with American Airlines on changing my previously purchased tickets so I could fly out of New York to Chicago.  150 bucks later (that's just the penalty) and with enormous time and effort I was done.  (Are you listening here, AA?  It shouldn't have to be this hard or expensive!)  Then since we don't know when our work with the old folks will be done I cast about for a way home.
Hmmm, Southwest Airlines will let me change my flights with NO penalty AND with the click of a mouse!  Guess who won my business yet again?  Southwest!  So what can you take out of this?  People want three things from any purchase:
Customers want it to be "simple and easy".  Buying (or changing) tickets on southwest.com can literally be done in two minutes or less.
Customers want a "solution to a perceived problem".  I needed to get from New York to Chicago and back.
Customers would like to encounter "good feelings" along the way.  Have you ever flown or dealt with Southwest Airlines?  Remember, these good feelings have to be company wide and consistently delivered by all your employees, not just a few super stars.
So just guess which is the most consistently profitable airline in the world?  That's right, Southwest!  This company "gets it". Now take the three points above and ask yourself if you are offering a "simple and easy" experience and a solution to their problem PLUS consistently giving the client "good feelings" along the way!
Steve
PS  Want a great Value Added Service "field trip" in the car rental industry?  Just rent from Enterprise.  But I'll wax eloquent about this company some other day.