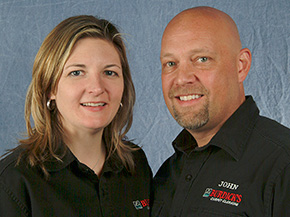 OK, in my last dispatch I shared the challenging and yes, even traumatic, process of letting go of my "treasured routine" of office work.  I bit the bullet and hired a part time employee to help me out.  (Plus we also contracted with outside companies to help.)
So, now that I have help and some administrative tasks are off my plate what have I been doing?  After hiring and firing a tech in an effort to get John off the truck (more on that saga to come) so he could do more prospecting, sales and on site estimates, we determined my skills would best be used there.
Frankly, after analyzing things we realized John just LOVES being on the truck and to be honest is having trouble letting go since he wants things done EXACTLY his way.  (Admittedly John wants a replica of himself … and that just isn't going to happen!)  We're working on making some changes to help John be comfortable "letting go" but ultimately being on the truck and in front of our clients is his love and passion!
However, John and I plan to sell or pass on the company in the future and recognize that he won't be able to push the wand forever.   So we are feeling out where he will fit in our company as it grows but also know that meanwhile we can't stop moving forward with our goals.  So after some thinking and continued work with our business coach/consultant Paul Landes, we decided to redefine MY role.  (As I told you in my last post I've already shifted some of my tasks to our "as needed" contract bookkeeper and my part time office assistant.)
Since we have aggressive plans to expand into the commercial side of carpet cleaning I'm going to be the one going after these accounts.  So now I've enrolled in a very intensive, year long, sales training course called Sandler Training.  I have 8 weeks of Foundations classes and a year of weekly classes in the President's Club.  It was a huge investment in both time and money but we know many close associates who have gone through the program and it has transformed the way they do business. So we knew it was something we just had to do.
Much of what I'm learning with Sandler can still be applied to our residential customers as well.  However, I'm going to focus on developing commercial accounts and targeting carpet retailers to partner with them to offer the SFS 12 month FREE Spot and Spill Warranty to their clients that purchase carpets.  (As we learned about in SFS: a win, win, win – for the home owner, carpet retailer and us!)
We continued to experience growth last year although not as much as in 2009 and prior.  But hey, it's still growth!  We were able to streamline some processes to be more efficient as well as cut costs in several areas which increased our profits.  So our bottom line this year is looking better than last year even though we didn't do significant growth in revenue.
Another big SFS "take away" we are now focusing on is that we have to continually invest in ourselves and the business.  It's easy to do that once you get the basic SFS concepts and procedures in place- the work comes, and with that the money to invest in professional development, systems/tools, and people that can help you continue to grow.  I joined John in the business 4 years ago (and yes he had a strong foundation to begin with) but it's still taken us those four years to get where we are now.
I think that's a good update for now.  Next up….  I'll write in with some of our SEO and web-site efforts. Then when I get my courage up I'll share the trials and tribulations of our last hire with the things we did and didn't do from SFS and what we learned.  (Basically we should have listened to what Steve Toburen taught us!!!!)
Meg